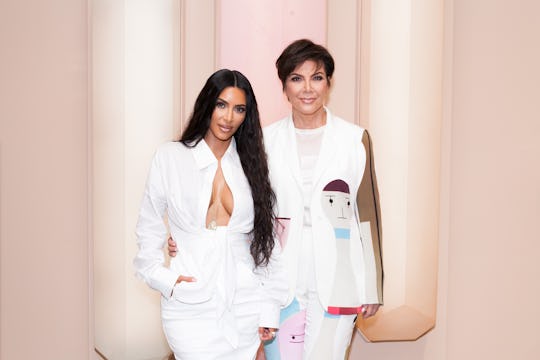 Presley Ann/Getty Images Entertainment/Getty Images
Baby Dream Kardashian Turned 2 & The KarJenner Family Celebrated With Cute Posts
Time flies when you're keeping up with the Kardashians! Somehow, Rob Kardashian and Blac Chyna's baby girl Dream turned 2 years old this weekend. And considering how proficient the rest of the KarJenner family is when it comes to social media, it's no surprise that a few of Dream's aunts and other family members took to social media to wish baby Dream Kardashian a happy birthday.
Back when Rob Kardashian and Blac Chyna were starring on the reality show Rob & Chyna (and when they were still engaged), they put all their relationship drama aside to welcome their daughter, Dream Renée, on Nov. 10, 2016. The on-and-off couple has been broken up for a while now, and following their split, in September 2017, Kardashian and Blac Chyna reached a custody agreement, according to E! News. However, this past April, Rob reignited the custody battle, filing an application for increased custody of their daughter, E! News reported. Despite all the drama, Dream is still a huge part of the KarJenner clan — and that became even more apparent this weekend, when she celebrated her 2nd birthday.
Kim Kardashian West, who is one of Dream's aunts, shared a pretty funny photo of her smizing self holding a sobbing Dream, back when she was teeny tiny. "My baby Dream, Happy Birthday!" Kim captioned the shot. "We've come a long way since this pic lol! I love our snuggles. Saint loves you so much & so do I!!!!"
Kris Jenner posted a super cute photo of Dream sitting on a picnic blanket blowing bubbles to celebrate the big day. "Happy 2nd Birthday to my beautiful granddaughter Dream!!!!" Kris captioned the adorable shot. "You have brought such joy into our lives and I love you so dearly... what a special blessing you are my precious girl.. I LOVE YOU 🎀🎀🎀💞💕💝💖💗💓💘May you always have bubbles!! 💙💙💙."
But one post wasn't enough for the proud grandma — just a few hours later, she posted a carousel of photos of Dream alongside another sweet message. She wrote:
Happy birthday to our sweet angel Dream! It brings me so much joy to watch you grow into the most beautiful, sweet, kind-hearted and loving little girl. We love you so much!! #HappyBirthdayDream #DreamyDream 🎀💕
Dream's mama Blac Chyna also shared a carousel of photos of Dream in honor of her birthday. There's a shot of her dressed as a mermaid, one of her in a bathing suit with a fabulous sun hat, and a few of her cuddling with her mom. Blac Chyna captioned the post:
To my Dreamy, Today is your 2nd Birthday and one day when you are older you will read this and know how much I love and cherish you. I wish you the most fulfilling experiences on your journey, blessings that overflows on your hands and the courage to pursue your "Dreams". As your mother I hope happiness and peace will follow you every step of the way. Happy Birthday to my beautiful and smart babygirl!!!!! Love Mommy❤️
If you're wondering why no other KarJenners wrote social media posts for Dream on her birthday, it might be because the family is pretty occupied with the wildfires destroying California right now. Over the past few days, Kim, Kourtney, and Khloé had to evacuate their California homes, Page Six reported. And since evacuating, Khloé has posted photos and videos of herself wearing a mask, while buying goods to donate to firefighters in need, as per The Daily Mail.
It seems like Khloé is staying with Rob and Dream at his house, based on a tweet that she posted, so I'm sure she wished Dream a happy birthday in person. Hopefully Dream has a wonderful rest of her birthday weekend despite the current devastation in California — and hopefully the KarJenner family and everyone else stays safe.