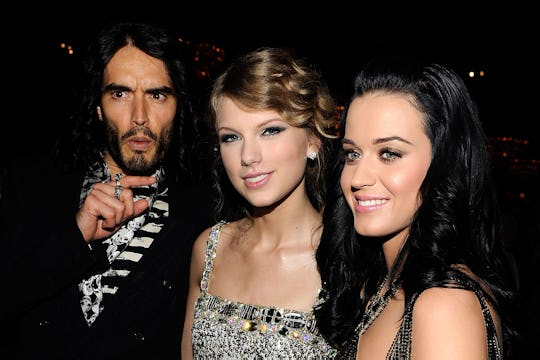 Larry Busacca/Getty Images Entertainment/Getty Images
The Katy Perry/Taylor Swift Feud Might Be Over, Feel Free To Weep With Relief
I think 2018 might just be the year when girl feuds finally give it a rest. Sure, I've read up on my fair share of celebrity feuds and I might have a weird level of encyclopedic knowledge of them, but that doesn't mean I think they're cool. The world is changing, folks, and nobody really wants to see two women getting into a feud. Not anymore. And what happy occurrence heralded this change? Why, it looks like the Katy Perry/Taylor swift feud might finally be over, and it ended in probably the classiest way possible.
Swift kicked off her Reputation tour on Tuesday, and it looks like she was starting with a perfect clean slate. The "Look What You Made Me Do" singer took to Instagram Stories to share a recent package she had received, as she explained in the video by saying, "So I just got to my dressing room and found this actual olive branch. This means so much to me." That's right; it looks like Katy Perry (although it could potentially be another Katy because Swift doesn't use her last name, but for argument's sake let's assume she's only feuding with one Katy at a time) sent her former foe a literal olive branch. And if sending an olive branch doesn't become the way to make amends this year, I'll die of shock.
Along with the olive branch that honestly looks like something Joanna Gaines would use to spruce up a drab kitchen on Fixer Upper, Perry sent a note. Swift covered up the bottom half with the envelope, because she likes to keep us guessing, I assume, but the top half is fairly legible. Well, legible enough for internet sleuths to zoom in and get the general gist of the note which read in part, according to Buzzfeed:
Hey old friend, I've been doing some reflecting on past miscommunications and the feelings between us. I really want to clear the air... I am deeply sorry for...
And that's it. One can't help but wonder what exactly Katy Perry is deeply sorry for. Although, since their feud is manically well-documented, I don't think it would hurt to hazard a guess. Let's travel back to 2009, shall we, when the world was a better place and Katy Perry and Taylor Swift were sending each other Happy Birthday tweets. I know... nine years later and it feels impossible to believe.
They were photographed together on the red carpet... with Miley Cyrus, no less. That's the world we were for real living in, and we didn't even know it could be taken away from us.
Then things started to go down hill. In 2013, there were rumors that Katy Perry did something pretty horrible to affect Swift's job. These rumors were fueled by T-Swift herself, in cryptic interviews like the one she did with Rolling Stone about her song "Bad Blood" from her 1989 album. She told the magazine that the song was about a "female artist" and even Katy Perry seemed to know who she was talking about.
Perry responded with her own diss track, "Swish Swish" in 2015 and the pair spent the next few years not mentioning each other but sort of mentioning each other in interviews. Although it didn't help when Swift's ex-boyfriend, Calvin Harris, tweeted that he wouldn't let her "bury him" like she did with Katy Perry, and Perry tweeted this amazing Hilary Clinton gif:
By last summer, Katy Perry seemed to be cooling off a little. She told Australia Today last July that she had nothing but love for Swift:
I mean, I love her, I always have. We've had our differences but I just continue to say, 'God bless her on her journey.'
Cut to May 2018 and Perry is sending out olive branches and Twitter has turned into a relieved love fest for the two singers.
So here is what this tells me; people are really over feuds. It's just way better to get along, I'm sorry if that's lame but it just is. And if the only thing to come out of this is bringing the olive branch back into play as a means of communication, I say well done, Ms. Perry. Well done indeed.