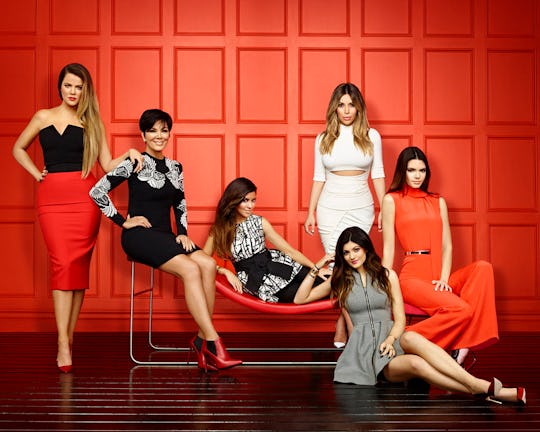 Brian Bowen Smith/E!
Here's What We Learned About The Kardashian & Jenner Pregnancies In The 'KUWTK' Premiere
The last few weeks have been a whirlwind of Kardashian/Jenner pregnancy news. First, reports came out that Kylie Jenner is allegedly pregnant and then a few days later, rumors of a Khloé pregnancy started circulating as well. However, nothing was ever confirmed by the family members themselves. But if you were hoping that the KUWTK premiere would address the pregnancy rumors, you were severely disappointed. In fact, you were probably downright pissed.
Don't get me wrong — the topic of pregnancy was discussed several times throughout the hour. Khloe even talked about having kids with her boyfriend Tristan Thompson during a round of Truth or Truth (the lesser known version of Truth or Dare). But it was all hypothetical situations. No big reveals happened and no confirmations were made. Not that I'm all that surprised since this is definitely this family's MO — to garner fan excitement before the premiere only to leave us desperately wanting more. But that didn't make my disappointment any less prominent. And the people of Twitter were all of the same mind. Viewers were eager for answers and so when they didn't, in fact, receive them, they were understandably upset that absolutely nothing was learned.
A majority of the episode took place in Cleveland, which was only mentioned about one billion times throughout the hour. Khloé was very eager to show her family around and explore the sights since she intends on spending a lot of time there in the foreseeable future. So of course she wants her family to love the place just as much as she does!
So they went all over the place (in fur coats because why the heck not?) and seemed to have a really great time for the most part. But that was pretty much all that happened throughout the entire episode. Sure, there was some talk about Caitlyn Jenner's book that came out and how they were all made that she hadn't been honest about what it was going to entail, but apart from that, no huge news was revealed and it was extremely underwhelming.
Another interesting aspect to consider is the fact that Kylie was completely MIA throughout the entire episode. Everyone else pretty much makes an appearance other than her. Why is that, do you think? Is this all part of the plan to keep us guessing and wondering about whether or not she's pregnant or am I just reading too much into this? (Either option seems equally possible at this point in my life.)
Our last hope was to look at the trailer for the season at the end of the episode for some trace or a tease that answers are actually coming. But even that wasn't very revealing, unfortunately. There was talk about Rob's custody battle, Kourtney's future with Scott Disick, and Kim telling Khloé that she's having another baby. But as for Kylie and Khloé herself, nothing new was discovered and let's just say that fans were not having it. They expected for at least one of the reported pregnancies to be announced, so to get nothing in return was a bit of a let down, to say the least. And they weren't afraid to air out their grievances on social media.
Like I said, I'm not all that surprised that this is the way it all played out, but I'm definitely disappointed. Fans shouldn't give up hope just yet, though. We just may need to get further into this season before any definitive answers are revealed. Sigh.
Watch Romper's new video series, Romper's Doula Diaries:
Check out the entire Romper's Doula Diaries series and other videos on Facebook and the Bustle app across Apple TV, Roku, and Amazon Fire TV.