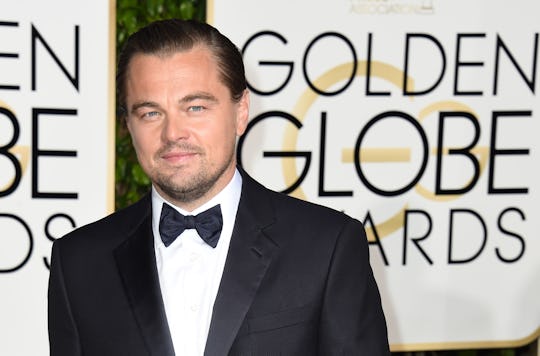 The Lady Gaga & Leonardo DiCaprio Golden Globes GIF & 19 Other Great GIFs From The 2016 Golden Globes
There was no shortage of interesting moments at the 2016 Golden Globes — some hilarious, some uncouth, some confusing, and some just plain amazing. So in addition to scrolling through red carpet photos, you also need to check out the most important GIFs of the Globes, where all of these caught-on-camera instances are immortalized.
Of course the Golden Globes are going to be a night full of GIF-worthy interactions. The award show is notoriously considered to be more of a party than a ceremonious affair, like the Oscars. There's less pressure, there's the combination of film and television people, and — most of all — there's a lot of alcohol.
As these stars get a chance to drink and hang out with their other A-list friends, there are always bound to be exchanges between actors that are worth playing over again and again in the form of GIF. From walking the red carpet to accepting the Best Motion Picture — Drama award, the 2016 Globes were full of funny snippets that are bound to become some of the best reaction GIFs of the year.
The one GIF everyone is looking for? That moment between Leonardo DiCaprio and Lady Gaga. That is some serious side-eye, Mr. DiCaprio...
Seriously, look at that side-eye!
These are the kind of unscripted, unexpected moments we're talking about. And while the Gaga/DiCaprio interaction is sure to win the Golden Globe for Best GIF, here are 19 other contenders: