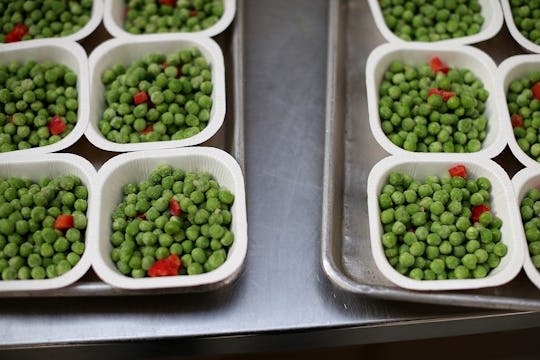 Justin Sullivan/Getty Images News/Getty Images
The Latest Listeria Recall Includes National Frozen Food Corp. Frozen Peas & Mixed Veggies
It seems like Groundhog Day, but this is real life: there's been yet another frozen vegetable recall due to possible listeria contamination. CNN has reported that National Frozen Food Corp. has issued a voluntary recall of both frozen peas and mixed vegetables because the products may have been contaminated. Veggies packaged under the brands Bountiful Harvest, First Street, Great Value, Live Smart, Market Pantry, and Sprout between Sept. 2 and June 2 are affected. The full list of more than 40 recalled products is available on the FDA's website.
In addition to the main recall, Green Cuisine has also recalled their pesto pasta salad with arugula because it contains ingredients supplied by National Frozen Food Corp. The affected product was sold at Whole Foods Market locations in Southern California, Nevada and Arizona on June 16 and 17.
The FDA has reported that the voluntary recall was spurred by a National Frozen Food Corp. internal sample testing, and there have not been any reports of consumers being sickened by the product. Listeriosis generally presents with fever, muscle aches, and gastrointestinal symptoms, according to the Centers for Disease Control, sometimes leading to headache, stiff neck, confusion, loss of balance, and convulsions in healthy individuals.
Listeriosis can be especially dangerous for the elderly and immunocompromised individuals, according to the CDC, where it can lead to septicemia or meningitis. In pregnant women, infection can lead to miscarriage, stillbirth, premature delivery, or fetal infections such as bacteremia or meningitis. Pregnant women are 10 times more likely than the general population to contract listeria infection, and pregnant Hispanic women are 24 times more likely to be infected.
The CDC provides some common-sense advice for avoiding listeria contamination, such as washing fresh produce, avoiding unpasteurized milk, and cleaning up food spills promptly, but unfortunately, none of it really applies to frozen vegetables, which are being recalled due to listeria contamination at an alarming rate lately. The National Frozen Food Corp. recall comes on the heels of the massive CRF Foods frozen vegetable recall in May that encompassed over 40 brands. With so many frozen vegetables and prepared salads now suspect, consumers' best bet may be to stick to fresh vegetables when possible, and try to avoid eating them raw, particularly if they're pregnant or immunocompromised.
The news of this latest recall comes just weeks after a U.S. Department of Health and Human Services Office of Inspector General report that the FDA's recall process is inefficient, and could be putting consumers at risk. There's not much one can do to avoid a recalled product if it hasn't been recalled yet. Maybe for now we should just avoid vegetables altogether? (I'm only half kidding.)