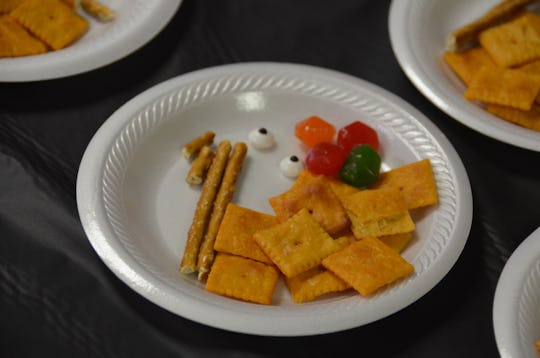 Shutterstock
Crackers & Fruit, A Bowl Of Cereal, & 10 Other Lazy Dinner Wins From Real Moms
I'm all the way here for quick and easy meals. Some might even call my approach to weeknight fare "lazy," but I say that the lazy way is sometimes the best way — especially when it comes to dinnertime. Honestly, sometimes a mom's laziest dinner win turns out to be a kid's new favorite meal.
Because what makes these lazy dinners a win is their ability to please kids and be comprised of enough food to make up an actual meal. My own personal lazy dinner win involves convincing my kids that breakfast for dinner is fun and different — especially when cold cereal, toast with jelly, and maybe a banana (if I'm feeling fancy) are involved.
Leave it to a sleep-deprived toddler mom to come up with an easy way to turn mini bagels into a gourmet-inspired pull-apart pizza bread. Obviously I'm using "gourmet" in the most general of terms here, but throwing some ingredients on a pan, shoving it into the oven for a minute, and then serving it to your kids without them complaining is an absolute win. Even easier still? Forgoing the use of your oven at all, as many of the parents mentioned here have discovered. Read on to see if you can cobble together any of these lazy dinner wins for supper tonight.