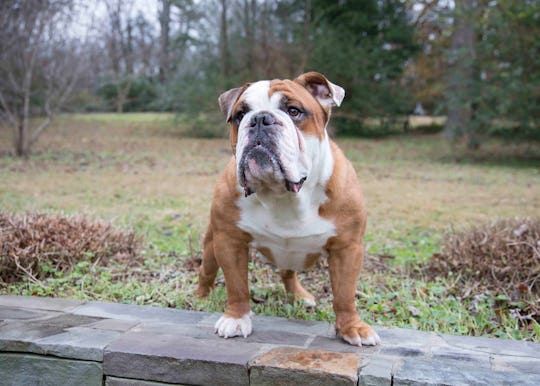 Shutterstock
If Your Family Wants A Super Snuggly Pup, Experts Say These Are The Best Breeds
When you're looking to welcome a four-legged friend into your family, you'll need to gauge your prospective pet's activity level. After all, some people want a dog that will be their workout buddy and will take long runs with them. And, well, there's the rest of us, who prefer a cuddly couch potato canine to binge watch Bravo without judgment. So which are the laziest lap dog breeds? Well, they come in all shapes... and sizes.
Some dogs are known for their high activity level, like a German Shepherd or a Russell Terrier. And others are infamous for constantly trying to herd everyone in the house (we're looking at you, Border Collies). But sometimes, your family just wants a dog that knows how to chill with the best of them, who doesn't necessarily mind if you don't run a mile that day, and whose main goal is to soak up the sun and smell the roses. "If you have a busy family life, a lazy dog will be the perfect addition," Steffi Trott, a professional dog trainer in Albuquerque, NM, tells Romper. ''He will be happy to come with you to the park or outings, but can just as well curl up and sleep the day away."
If you're looking for a low-key canine, these lazy lap dog breeds definitely qualify. And while some of these dogs might not necessarily qualify as "lap dogs" due to their size, they're all snuggle monsters who love to laze about—perhaps just like their owners.