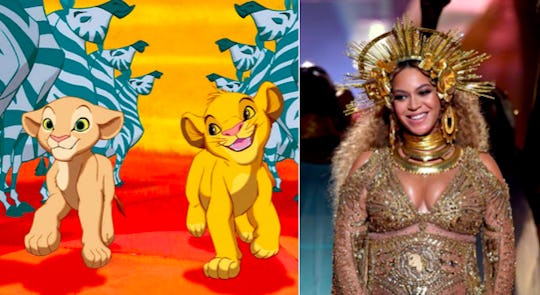 Kevin Winter/Getty Images Entertainment/Getty Images & Disney
The 'Lion King' Remake Cast Is Here, & OMG Beyonce
The fact that Disney is planning a live-action remake of the Lion King was already good enough news. But the Lion King remake cast was just confirmed and Beyoncé is signed on to play Nala, Simba's BFF and love interest, so yes, all of our collective dreams are going to come true. There's really no way this gets any better, since you just know in your heart that there's no way Beyoncé will let the movie hit theaters without being an absolute banger all around. She wouldn't let us down, right?
Now that Beyoncé's signed on for the role, the whole cast is completely filled out. Earlier this year, Donald Glover was cast as Simba, along with James Earl Jones (of course!) as Mufasa. In addition to those leads, Disney's also confirmed Chiwetel Ejiofor cast as Scar, Alfre Woodard as Sarabi, John Oliver as Zazu, John Kani as Rafiki, Seth Rogen as Pumbaa, Bill Eichner as Timon, Eric Andre as Azizi, Florence Karumba as Shenzi, Keegan Michael Key as Manari, JD McCrary as Young Simba and Shahadi Wright Joseph as Young Nala.
This is going to be so good, if only because John Oliver will also make a great Zazu. Plus, the fact that he's being played a British man means the writers might stick really closely to the script of the animated one.
Jon Favreau will direct the remake using the same techniques as he did with the Jungle Book last year. He's going to use the same "virtual production" techniques to combine the human (and other worldly, if we're honestly talking about Bey) voices and movements with animated elements. Favreau said in a press release on Wednesday, according to Forbes, "It is a director's dream to assemble a talented team like this to bring this classic story to life."
Fans are all thanking Favreau for getting Queen Bey on board. Since Disney announced the film, along with some of the leads like Glover, he's been talking about getting her on board. Back in March, Variety reported that "the studio and director will do whatever it takes to accommodate her schedule." Whatever they did, let's be glad they did it.
This will be Beyoncé's first appearance in a movie in a hella long time. Last time she was, she had a role in Fox's Epic, and had parts in the 2009 movie Obsessed, Dreamgirls in 2006, and Austin Powers Goldmember way back in 2002. Movie buffs and the Bey Hive are all likely thinking the same thing now that the full cast has been announced: If they do this right, the soundtrack is going to be so good that it wins a Grammy. And maybe Beyoncé will get an Oscar, too, putting her one step closer to an EGOT.
Alas, we'll have to wait until June 2019 to see how it all turns out. Beyoncé's been wanting to act more in general, according to a report last year from Us Weekly. She allegedly had been taking acting lessons to better land an "iconic, dramatic role," according to its sources. Us Weekly reported, "She wants to make a film that's socially relevant to African American rights." Playing Nala might not be that iconic, but it certainly has an all-star cast.
But, acting has always been tough for Bey. She said in 2006 in an interview with Cosmopolitan, "I took a risk with acting. It was scary because it was different for me."
According to TIME, Beyoncé turned down a role in The Wiz remake for television, so something must have really spoken to her about this new Lion King. (Or she was too busy with the release of Lemonade and her Formation World Tour to work on the other project.)
In any case, she's going to be great as the voice of Nala in the new Lion King remake. We ~just can't wait~ to see the Queen in it.
Watch Romper's new video series, Romper's Doula Diaries:
Check out the entire Romper's Doula Diaries series and other videos on Facebook and the Bustle app across Apple TV, Roku, and Amazon Fire TV.