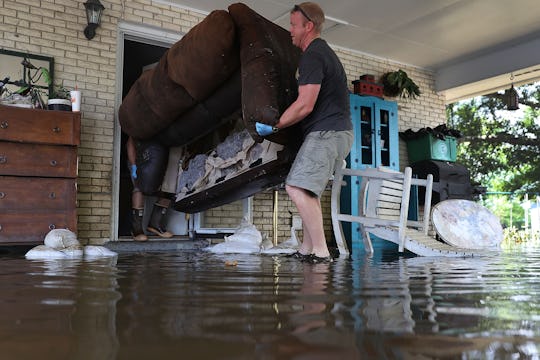 Joe Raedle/Getty Images News/Getty Images
The Louisiana Flood Text Donation Service Is Helping Those Who Need It Most
According to CNN, the Red Cross has called the Louisiana flood the worst natural disaster to hit the United States since Hurricane Sandy in 2012. Over 6.9 trillion gallons of rain hit Louisiana over the course of six days, affecting over 40,000 homes, killing 13 people, and leaving over $30 million in damage in its wake. As the world has watched the tragedy unfold, many have wanted to offer immediate help — and luckily, the Louisiana flood text donation service makes that easy.
If you'd like to assist the Red Cross' efforts in Louisiana, text LAFLOODS to 90999 to donate $10 to the organization. So far, over 1,000 Red Cross volunteers from across 50 states have assisted the organization in their response to the Louisiana floods, and they've helped over 8,000 local residents find temporary shelter. The Red Cross has also contributed over 60 disaster response vehicles, 40,000 ready-to-eat meals, and shelter and kitchen supplies where needed in Louisiana.
"People in Louisiana urgently need our help now," Red Cross official Brad Kieserman said in a statement on Tuesday. "The Red Cross is mounting a massive relief operation."
For those who would like to donate higher amounts, the Red Cross also accepts donations on their website or via phone calls to 1-800-RED-CROSS.
If you choose to donate to the Red Cross via text message, your $10 contribution will appear on your next phone bill, and your cell service provider will send $10 to the Red Cross via a mobile donation company. Unless you pay per text message (and if you're doing so, we need to have a chat about unlimited phone plans, my friend), you won't be charged any extra fees. According to The Balance, your name and address will also remain anonymous in the case of a text donation, so you can donate with no strings attached.
For those who have already texted to donate (or are unable to do so currently), there are plenty of other ways to help victims of the Louisiana floods. Many organizations, such as the Junior League of New Orleans, are collecting much-needed everyday items (such as diapers, feminine hygiene products, and gift cards) for those in Louisiana, and donations can be dropped off in person or shipped in to their offices. Centers operating as temporary housing in Louisiana are also in need of pillows, blankets, and chairs, and many inundated animal shelters need people to help foster pets.
Louisiana has a long road of recovery ahead of it, but each donation helps those who badly need assistance. By sending a simple text message, it could take you less than a minute to help those who need it most. Text LAFLOODS to 90999 to help out instantly.