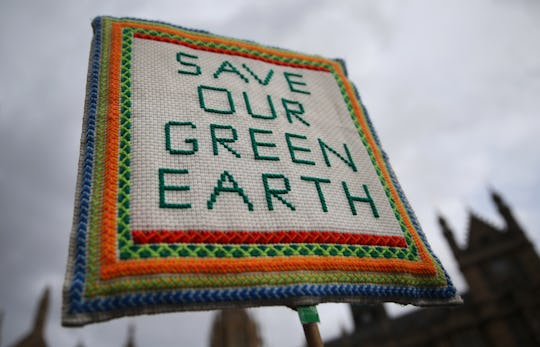 Peter Macdiarmid/Getty Images News/Getty Images
Best Signs From The March For Science
I think it's probably safe to call 2017 the Year Of The March. Ever since Donald Trump became president (not that I'm trying to connect the dots or anything), it seems as though there are marches going on every few weeks or so. I actually think it's a sort of incredible thing, all of these people getting together to peacefully protest and advocate for positive change. Also... the signs are basically my favorite. And the March for Science signs from Saturday's events from around the globe are proving to be expert-level amazing.
According to the website's mission statement, the March for Science:
champions robustly funded and publicly communicated science as a pillar of human freedom and prosperity. We unite as a diverse, nonpartisan group to call for science that upholds the common good and for political leaders and policy makers to enact evidence based policies in the public interest.
People planned to march in over 600 cities around the globe in support of scientific integrity and reporting. While the March for Science is considered non-political, it was conceived in the wake of President Trump's inauguration by three U.S. scientific researchers, Caroline Weinberg, Valorie Aquino and Jonathan Berma. Trump has a history as a climate-change denier, and his proposed 2018 budget would bring severe budget cuts to scientific research.
And so... Beaker thought it would be a good idea to march.
In cities across the country, we were blessed with signs made by the cleverest of us all. The science kids.
Many of the signs were sort of sweet and cheeky.
While others were a little more on the nose.
These dogs might actually win the internet today.
I'm not going to say this sign takes direct aim at Trump. It could be for anybody, right?
This one is probably aimed at Trump, I think.
Whatever this 102-year-old woman's sign says, it doesn't matter. She's able to show up to march for science and just be alive for over a century because science.
Also this.
President Trump released a statement recently ostensibly in support of science, insisting:
Rigorous science is critical to my administration's efforts to achieve the twin goals of economic growth and environmental protection. My administration is committed to advancing scientific research that leads to a better understanding of our environment and of environmental risks. As we do so, we should remember that rigorous science depends not on ideology, but on a spirit of honest inquiry and robust debate.
But I have a feeling the marchers would prefer it if he put his money where his mouth was.
All over the world on Saturday, people marched. Outside in the (relatively) fresh air, on two legs. Tonight they will go home to their houses with central heating, cook dinner, drive their cars.
Because science.