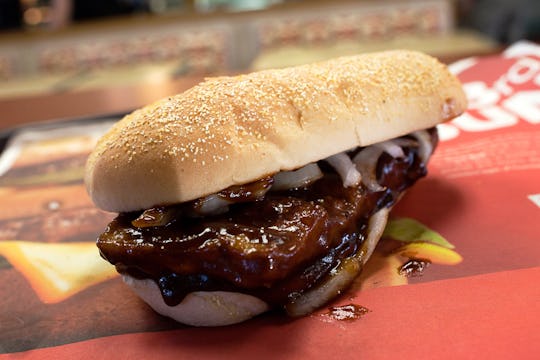 David Paul Morris/Getty Images News/Getty Images
Scrap Your Dinner Plans: The McRib Is Officially Back At McDonald's
I fondly remember the first time I tried the McRib. I grew up in a small town where our McDonald's didn't stock any of the good stuff — it was just cheeseburger Happy Meals and orange soda forever. Then I visited my nearest big city, where the McRib was being advertised in the entryway. After my first bite, I can tell you I have never felt fancier than I did eating that McRib like a big city gal. And now, finally, the McRib is officially back at McDonald's for a limited time and you can bet I'll be eating one.
Let me walk you through a brief history of the McRib, that glorious pork sandwich topped with barbecue sauce, pickles, and onions, although I will be aging myself horrendously. It was first introduced back in 1981 but was taken back off the menu because of poor sales in 1985, according to The Hustle. The McRib enjoyed a brief, shining moment on the regular McDonald's menu from 1989 to 2005, according to The Daily Meal.
Since then, the McRib has gone the way of one of my other favorite McDonald's limited menu items, the minty delicious Shamrock Shake, and tends to crop up for limited engagements. It's actually very rock-and-roll when you think about it.
And now it looks like the McRib season is finally upon us.
In a press release, McDonald's announced the exciting news that the McRib will be available in thousands of restaurants and via McDelivery on Uber Eats starting this week.
"McRib is available for a limited time in more than 9,000 restaurants nationwide and via McDelivery on Uber Eats at participating locations," the restaurant said in the press release. "Try the delicious fan-favorite sandwich, made with seasoned boneless pork, slathered in tangy barbecue sauce and topped with slivered onions and tart pickles, all on a hoagie-style bun."
Fans of the McRib are justifiably losing their minds all over Twitter about the return of that beautiful sandwich. "In Florida we have only 2 seasons: McRib and Not McRib," one Twitter user wrote.
Another chimed in, "No one can bring me down, it's McRib season. AKA my time to shine."
"Those three special words? 'McRib is back.' ( in sultry voice )," yet another wrote.
One more tweeted that McRib's return means that "all is right in the world."
One more suggested fellow McRib lovers to "Go tell the others!"
Wondering when your nearest McDonald's might be serving up some tasty McRibs? Just enter your information in the handy dandy McRib locator or check out Uber Eats. The good news is, in the past few decades even small towns get the good stuff at their local McDonald's. .
We humans are a funny bunch, aren't we? When the McRib was first introduced, as noted by The Daily Meal, the sales were less than ideal that McDonald's discontinued the sandwich. No that the sandwich is harder to get, we're all dying to get our hands on it. It seems we're all obsessed with the thrill of the chase. And right now? We're chasing down one tasty sandwich.