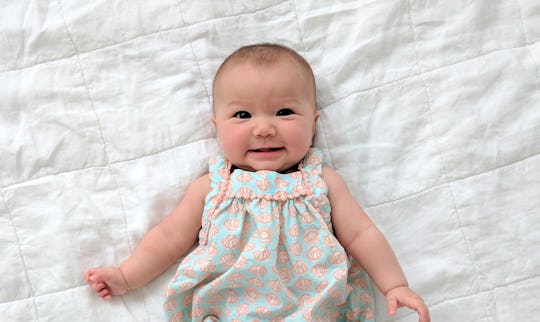 Courtesy of Anne Vorrasi
The Most Successful Baby Names, According to Science
Parents have a million factors to consider when they're choosing a baby name: Does it flow with the family surname? Will kids at school turn it into a mean rhyme? Did you once have an arch enemy with the same name? One thing you might not consider is how your child's name will influence her level of success in life — after all, some of the most successful people have unconventional names (um, Oprah?). But research shows that certain monikers do seem to have more prestige than others. So what are the most successful baby names, according to science?
Experts have approached the question of whether or not certain names are linked with prosperity from a variety of angles, and their methods have produced some very interesting results. One study by Verdant Labs, makers of a baby name research app, used public records to chart "disproportionately common names by profession," as the Washington Post reported. While actual earnings weren't taken into account, the professions themselves could be considered a somewhat consistent barometer for future success... but of course, success can be tricky to predict when it comes to certain jobs. Take the name "Hannah," for example, which was found to be common among poets. The career of a poet could look like that of Maya Angelou, or it could just as easily mean years of perfecting one's latte milk art as a barista while desperately trying to get published.
Other research from UCLA studied which names "leverage other people's biases," according to Inc., rendering them "more likely to make other people respect them at first meeting, and assume that they are successful, throughout their lives." These biases, researchers theorized, could lead to more opportunities (resulting in greater success).
A rose by any other name would smell as sweet, but would a Steven by any other name make as much money? Maybe not. Still, if your goal is to start your baby on the path to success before he even leaves the hospital, here are some names to put on your list, pronto.
This article was originally published on