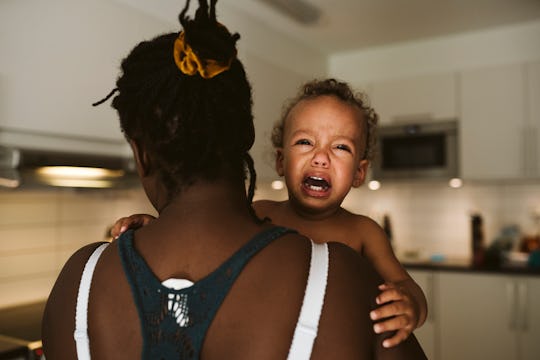 Johner Images, Getty Images
The 4 Most Tumultuous & Dramatic Mother-Child Zodiac Pairings
While it would be nice to get along with everyone you meet, there are bound to be people you're going to clash with — even beyond friendships. It's also important when it comes to how you connect to your own kid. Because even though you gave birth to your babe, you're still bound to butt heads from time to time — and that could be in good part to your astrological signs. If you've ever wondered how your sign aligns with that of your child, you can learn about these four tumultuous (and dramatic) mother/child zodiac pairings, and why it can actually lead to astrological alchemy.
"When looking at the signs, there are certain combinations that can be particularly tumultuous," Joy Strong, an astrologer, tells Romper in an email. "Whether competitive or antagonistic, the combinations that are often most challenging in parent-child relationships would be the ones most likely to produce power struggles."
But even if you and your child have dramatic zodiac pairings, that doesn't mean the relationship is destined to doom, says Adama Sesay, an astrologer. "Understanding the compatibility between you and your child's moon and sun can bring you closer together!" she says in an email to Romper. Before you start comparing Capricorn to Cancer, though, you should also look at your sun and moon signs first. "In parent-child relationships, the sun and rising signs are important to consider," says Strong. "Moon signs are also even more revealing, especially with mothers and children." Why? Well, as Sesay explains it: "The moon represents the mother, our home growing up, and becomes our emotional world as adults."
Read on to see your sign's compatibility to that of your child, and what you can do to foster an out-of-this-world relationship.