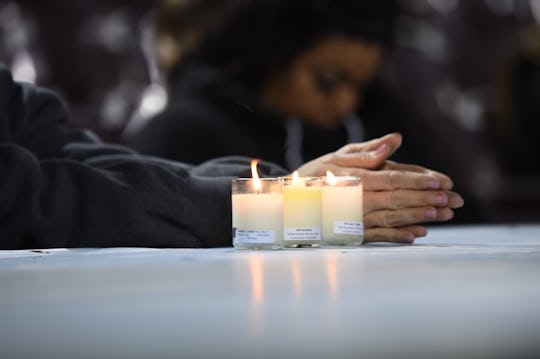 The Motive Behind The San Bernardino Attacks Is Still Unknown, But Police Aren't Ruling Out Terrorism
The two suspects of Wednesday's mass shooting at the Inland Regional Center were killed that day in a shootout with the police, but the motive behind the San Bernardino shooting is still unclear. According to a New York Times report, aspects of the shooting led police to believe it was planned in advance. Suspects Syed Rizwan Farook and Tashfeen Malik had stockpiled thousands of rounds of ammunition and a dozen homemade pipe bombs in their home, and they arrived at the center with assault rifles and officials confirm they were wearing tactical gear.
Police also say that Farook had begun wiping data on his devices at least a day in advance, and that the couple had also left their 6-month-old daughter in Farook's mother's care Wednesday morning. Judging by the collection of bombs and ammunition in the couple's home, officials believe they were likely planning more than one attack, but they have yet to determine why, or whether the holiday party at the Inland Regional Center was even the intended first target. Reports are stating that the F.B.I. is currently considering that the shooting was a terrorist attack, but emphasized that more information is needed, and they aren't ruling out any possibilities just yet.
The concerns that the shooting was actually a terrorist act is reportedly based on Farook's contact with individuals connected to different terrorist groups, including Somalia's Al-Shabab, and Al Qaeda's Nusra Front. However, police have noted that these communications took place a few years ago, and that in all cases, the files were closed without charges. A number of electronic devices belonging to the suspects have been sent to F.B.I. labs in Quantico, VA for further examination, but as of yet, it appears that the shooting may not have been related to terrorist group activity.
In a statement Thursday morning, President Obama further emphasized that while it's possible that this was a terrorist attack, it could also be workplace-related. Obama reiterated that both the suspects' motivations as well as the extent of their plan is not currently known.
Syed Rizwan Farook was an American citizen born in Illinois to Pakistani immigrants. After visiting Pakistan last year, reports show that he returned to the U.S. in July 2014 with Tashfeen Malik, a Pakistani national entering the country on a K-1 visa, which is given to foreign individuals intending on marrying Americans. One year later, Malik was granted a conditional green card following an application to be a permanent resident. Criminal and national security background checks through the F.B.I. and the Department of Homeland Security must be passed in order to obtain a conditional green card.
Following the shooting, Farook's brother-in-law Farham Khan came forward in a press conference saying that he had no idea why Farook would carry out a shooting, and that he "was in shock [himself]". He added:
Something like this doesn't relate to my religion. I am a Muslim. I'm a good person. And there's a lot of good Muslims there. He was a bad person, that was his personal act.
Wednesday's shooting killed 14 people and left upwards of 21 wounded, making it the nation's deadliest mass shooting since the Sandy Hook school shooting in Newtown, CT. in 2012.
Image: ROBYN BECK/AFP/Getty Images