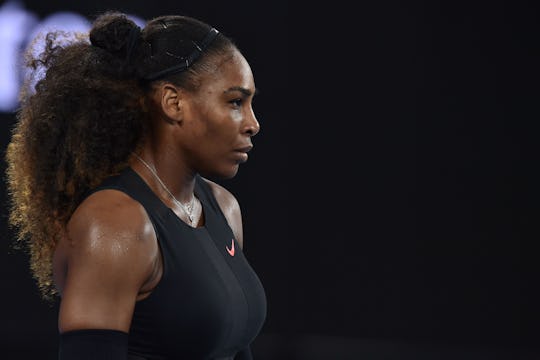 PAUL CROCK/AFP/Getty Images
The Name Serena Williams & Alexis Ohanian Chose For Their Daughter Is Trailblazing
Tennis queen Serena Williams is a mom, as most of us with access to the internet already know. She gave birth to a little girl (of course, right?) on Sept. 1, the first child for both Williams and beau, Reddit co-founder Alexis Ohanian. The couple have been trickling out bits of information about their daughter, offering the world a little glimpse of her on Wednesday. Williams also shared her daughter's name, and the inspiration behind it is yet another testament to how much she clearly loves Ohanian.
Williams and Ohanian, who got engaged last December, shared the most amazing video introducing their baby to her adoring fans. The video followed Williams throughout her pregnancy, with updates on her progress and behind-the-scenes shots of the couple as they prepared for baby. There are shots of Ohanian building a crib, and Williams playing tennis and swimming with her baby bump. And at the end of the video, they shared the baby's name; Alexis Olympia Ohanian Jr. She was born on Sept. 1, weighing in at just over 6 pounds... and has already won her first Gran Slam. Williams was pregnant when she won her 23rd Grand Slam earlier this year, so it seems little Alexis was along for the ride. I know — impressive.
The fact that the couple went the slightly non-traditional route of naming their daughter after her father (with a Jr. tacked on at the end, no less, something that's often usually only done for boys) should come as a surprise to exactly no one. For one thing, Williams has never been one to follow the expected path, in her career or her personal life. She's made a name for herself as a trailblazer, breaking records on a regular basis playing tennis. A sport, Williams once noted in an essay for Wired magazine's trailblazer issue, that did not encourage a spirit of inclusion.
I'm a black woman, and I am in a sport that wasn't really meant for black people. I want young people to look at the trailblazers we've assembled below and be inspired. I hope they eventually become trailblazers themselves. Together we can change the future.
And now, she has even more reason to want to change the future.
Ohanian and Williams have had one of those rom-com level romances ever since they first met at a hotel in Rome in 2015. They met organically, neither of them knowing much about the other. Williams told Vanity Fair that she had never seen Reddit, and Ohanian had never watched her play tennis. Their first date was in Paris, where the two walked around the City of Love for six hours talking. As Ohanian said in the same Vanity Fair interview, he knew he wanted to marry her early on:
I felt like a door had been opened to a person who made me want to be my best self. . . . I find myself just wanting to be better by simply being around her because of the standard she holds.
The two got engaged in December 2016.
Williams and Ohanian are not the first celebrity couple to name their daughter after a man in the family, of course. Ryan Reynolds and Blake Lively named their oldest daughter James after Reynolds' own father, who died last October after battling Parkinson's Disease. Rebecca Romijn and Jerry O'Connell named one of their 8-year-old twin daughters Charlie after O'Connell's brother Charlie. It's actually a rather lovely, if permanent, way to pay homage to someone you love. And Williams' reclaiming a tradition that's historically been used when naming boys is a symbol that doesn't need much explanation.
But while the baby's first name might have been inspired by her father (also a seriously impressive trailblazer in the world of technology), her middle name was surely inspired by her own Olympian mother.
Alexis Olympia has the best of all worlds — strong, supportive parents who love each other and love her in equal measures. Not such a bad gig.
Watch Romper's new video series,Romper's DoulaDiaries:
Check out the entire Romper's Doula Diaries series and other videos on Facebook and the Bustle app across Apple TV, Roku, and Amazon Fire TV.