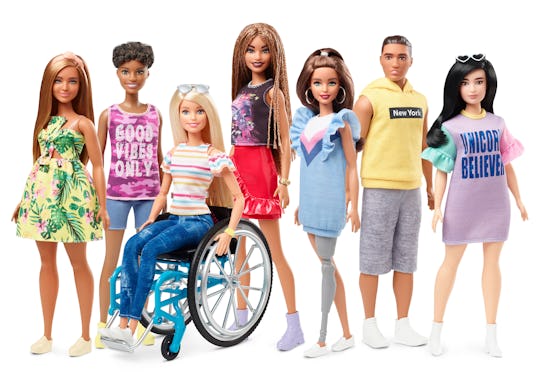 Barbie
The New Barbies Include People With Disabilities & This Is Groundbreaking
For as long as I can remember, I've been a Barbie fan. I had my parents' ancient leather suitcase under my bed, and it was full of Barbies, their accessories, and their furniture. (Seriously, I had a gorgeous set of wicker Barbie furniture and I was the envy of all my friends.) I played with Barbies long after it was deemed "acceptable," and I'm just as excited to break out my collection with my own daughters. But my suitcase full of Barbies lacks some diversity, which is why I can't wait to order the new Barbie Fashionistas 2019 line. Barbie has come a long way in her 60 years, and this new line proves it with more inclusive and more diverse dolls. Barbie is literally for everyone.
The Mattel icon has been under scrutiny in the past. It's no secret that many have felt the original Barbie doll gave girls a poor outlook on body image and diversity, but I was always transfixed by how Barbie could be anything she wanted to be. Vet, astronaut, scientist, actress, musician, mom — anything. She was my first look at feminism, and I think the pretend play with her was so subtle, I didn't even realize how much I was molding my own mind. But I definitely know now. Looking back, I'm sure I can blame Barbie for my constant "What I want to be when I grow up" changes. Some days I wanted to be a writer, some days a pediatrician, and some days an actress — I'm pretty sure it was all Barbie.
But for little girls who didn't feel represented by the I-can-do-anything dolls, Barbie needed some improvements. Enter 2016 when the Barbie Fashionistas line launched. With four new body types, seven skin tones, 22 eye colors, and 24 hairstyles, History.com noted in its Barbie timeline that this new line was a direct response to the criticism the doll had faced in years past for her lack of diversity. And people loved it. My own daughter has several dolls that feature the larger and shorter body types, and it's incredible to see so much of the "modern" woman represented in her toys.
And now? Drumroll, please. The Fashionistas line has expanded for Barbie's 60th birthday. The line now includes a new braided hair texture, a new body type for Barbie that shows off a smaller bust with a less defined waist and more defined arms, and dolls with permanent physical disabilities. The 2019 Fashionistas line proudly sports a Barbie doll in a wheelchair and a doll with a prosthetic limb. So incredible.
According to a spokesperson for the brand, Barbie worked with partners at UCLA Mattel Children's hospital, along with some wheelchair experts, to create a toy that only represented so many, but was also very legit. The new Barbie wheelchair "is modeled after a real, rigid frame wheelchair," the spokesperson tells Romper.
As for the prosthetic limb, 13-year-old Jordan Reeves stepped in to help Barbie create a toy for those with similar physical disabilities. Reeves is the co-founder, ambassador, and lead innovator of the organization Born Just Right, which aims to help other children with limb differences. Reeves is basically a superhero and is currently working on a 3D-printed prosthetic that will shoot actual biodegradable sparkles. I mean, if that's not the face of what Barbie stands for, then what is? With her on board, Barbie was able to create a doll with a "key design feature as you can remove the prosthetic leg for a more realistic experience," the spokesperson says.
It doesn't get much better than that. Not only is Barbie creating more inclusive toys, but they're doing it with the right people by their side. People who know what it's like to have a wheelchair or a prosthetic limb. People who know how important it is to feel represented.
I've always loved Barbie, but with this 2019 Fashionistas line? I'm more than ready to give my girls the collection I had as a kid. It'll just look a little more diverse, and for that I'm truly grateful.