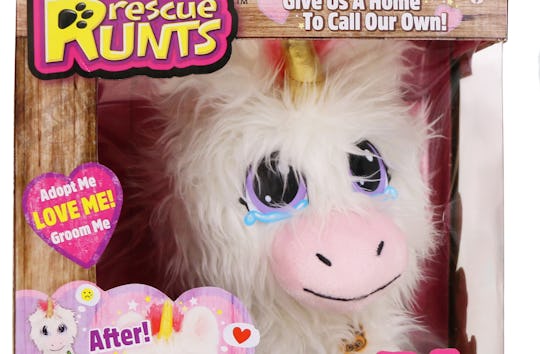 Courtesy of KD Toys
Kids Are Gonna Beg For The New Rescue Runts Unicorn & It's Only Available Here
Do you have a pet-loving child who has a soft spot for all creatures great and small? Then add this gift to your holiday shopping list: Walmart is selling a limited-edition Rescue Runts Unicorn, just hitting stores this week. It's the kind of irresistible toy that promises to fly off the shelves quickly, so you'd be wise to make your way to the nearest Walmart store ASAP.
If you're not yet familiar with the Rescue Runts (and TBH, I wasn't until just recently), they're a line of lovable 7-inch stray animals looking for a forever home. When first purchased, they look as though they've seen better days: Their paws are dirty, their fur is unruly and full of (plastic) fleas, and one paw is in a cast. Their soulful eyes are tear-filled, hinting at a life of hardship and sorrow. But with just a little work and a lot of TLC, a new owner can transform a Runt into a happy, well-groomed pet.
The Rescue Runts line was released earlier this year by the Europe-based company KD Kids. Up until now, there were only four, and all of them were dogs: Shepherd, Husky, Spaniel, and Spotty (a black-and-white mutt). The Unicorn is the first non-pooch addition to the collection of strays; it's just as winsome as the others, and just as much in need of a loving home.
When your Rescue Runts Unicorn first comes home (or when it's unwrapped under the tree or menorah), your child can use the first-aid tools included in the package to help restore it to its magical glory. There's a pair of tweezers for plucking out those nasty fleas, and the cast on its leg is easily unwrapped. Also included is a small towel which, when dipped in warm water, will remove the dirt from the Unicorn's hooves and the tears from its eyes. Your child will enjoy using the pet brush to turn the Unicorn's coat from scruffy to fluffy, and its drooping ears can be straightened to show how happy it is to be loved.
Like any rescue pet, the Rescue Runt Unicorn needs proof of its new home and identity. Once your child chooses a name for the horned pet, they can personalize the collar and tag that comes with the boxed set. Then you can go on the offical website to download an adoption certificate, showing once and for all that this sweet little guy (or girl) is your child's forever owner.
While the dogs in the Rescue Runts line are all available through Amazon as well as at Walmart, the Rescue Runts Unicorn is an in-store only toy, available at a wallet-friendly $20 at Walmart. Supplies are literally just hitting stores this week, and it should be easy to find the unicorns if you head over to your nearest location ASAP. Just a reminder, they are a limited-edition toy, however, so it won't be around for long.
There are two other appealing factors about this particular toy: Like a real pet, the Rescue Runts Unicorn needs regular care to stay at its best. When the hooves dry, the dirt reappears, ready to be wiped off again. The fleas and cast can be put back in place so your young owner can play doctor, and of course, every pet's fur has to be brushed often.
The other nice thing about the Rescue Runt toys is the message they teach about pet adoption. Adopting, rather than buying, a dog or cat will save a life and add a loving and grateful companion to your home. Parent company KD Kids donates regularly to animal rescue organizations, as well as offering information on these organizations for families considering adopting a fur baby.
A toy animal that's not only lovable and huggable, but also teaches responsibility and kindness — what better gift could you want for your child? Oh, yes...it's a unicorn. Enough said. Time to head to Walmart to help give a Rescue Runt Unicorn a loving home this holiday season.
Editor's note: This article has been corrected to reflect the location of the parent company, KD Kids.
This first-time mom wants to have a home birth, but is she ready? Watch how a doula supports a military mom who's determined to have a home birth in Episode One of Romper's Doula Diaries, Season Two, below. Visit Bustle Digital Group's YouTube page for the next three episodes, launching every Monday starting November 26.
This article was originally published on