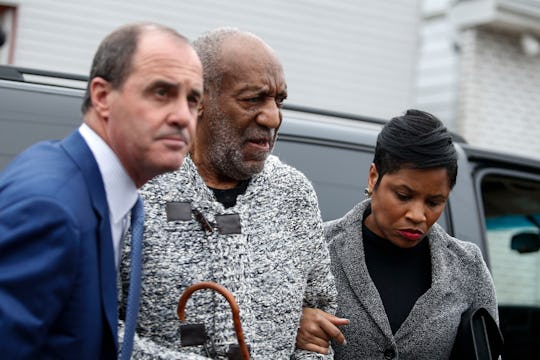 The 'New York Daily News' Bill Cosby Cover Makes A Powerful & Necessary Statement
For the first time, Bill Cosby is facing criminal charges related to accusations of sexual assault and misconduct. The mounting list of allegations against Cosby seems pretty damning, though Cosby and his attorneys have maintained that he is innocent. Thursday's New York Daily News Cover featuring Bill Cosby makes a powerful statement on the weight of the allegations against the once-beloved actor and comedian. No fewer than 50 women have come forward with detailed — and strikingly similar — accusations that Cosby drugged and abused them sexually in stories that span some four decades of his career.
Now long blasted in the court of public opinion, the comedian once known affectionately as America's Dad was charged by Pennsylvania prosecutors Wednesday with aggravated indecent assault stemming from allegations that Cosby drugged and violated Andrea Constand in 2004. Cosby, now 78 years old, has denied all wrongdoing. And a key point for his supporters has been that no charges had ever been brought against him until recently. Cosby was charged just one month before the 12-year statute of limitations on sexual assault would have run out under Pennsylvania law. The TV icon was arraigned in a Montgomery County courtroom on Wednesday and is currently free on a $1 million bail.
Cosby's representatives, Christopher Tayback and Monique Pressley, have not responded to Romper's request for comment about the case. However, in a statement issued to Us Magazine, Cosby's attorneys said the charges were expected and are politically motivated:
The charge by the Montgomery County District Attorney's office came as no surprise. Filed 12 years after the alleged incident and coming on the heels of a hotly contested election for this county's DA during which this case was made the focal point. Make no mistake, we intend to mount a vigorous defense against this unjustified charge and we expect that Mr. Cosby will be exonerated by a court of law.
After Pennsylvania prosecutors declined to bring charges against Cosby in 2005, Constand pursued a civil suit against the actor. Montgomery County Prosecutor Kevin Steele told CNN that Cosby's statements in the Constand civil case, made public by court order earlier this year, represented new evidence that allowed the state to reopen a criminal investigation. In a deposition in the original civil suit between Constand and Cosby back in 2005, Cosby admitted to using drugs to help him have sex with women:
Attorney: When you got the Quaaludes, was it in your mind that you were going to use these Quaaludes for women that you wanted to have sex with?
Cosby: Yes.
And as the Thursday Daily News cover points out, the charges against Cosby are no light matter.
Years ago, the case against the television legend might have been a complicated case of one woman's word against his, but that time has long since passed. Cosby has been implicated by nearly identical stories from at least 50 women — and by his own words. The Daily News cover bluntly states that this isn't a "he said, she said" case anymore — it's far more grave than that.
Cosby will have his first preliminary hearing in his criminal case on Jan. 14, according to the Washington Post. So far, no trial date has been set.
Images: Kena Betancur/AFP/Getty Images (2)