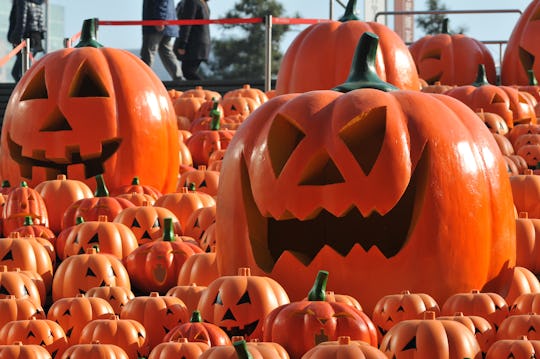 VCG/Getty Images News/Getty Images
'The Office' Halloween Costumes, Straight Outta Dunder Mifflin
I am here to tell you, as a well-seasoned wearer of bland, un-trendy Halloween costumes, the classics are where it's at. While my go-to ambiguous "Is she a pirate? Is she a gypsy?" costume of leggings, boots and long white shirt with a scarf in my hair hasn't won me any contests, it also doesn't cost me a cent. But this thrify-minded girl is wondering if I might be able to do slightly better this year? I'm thinking cheap with an ironic twist. Enter The Office Halloween costumes for more than one reason; first, I'm a fan, and second, I'm basically already dressed like Pam Beasly every day of the week.
Fans of the American version of The Office will remember which cast member would have shared my laidback approach to Halloween; Mr. Jim Halpert. Every one of their nine seasons, The Office would air a new Halloween episode and Jim would put minimal effort into his costume with epic results. This year, let's all be Jim. Or Michael, or Pam, or Phyllis, or Kelly, or Andy, or Dwight... but NOT Toby. While every Halloween party will be full of trendly costumes like your Donald Trumps, your Hillary Clintons, your Kenneth Bones , and even your David S. Pumpkins, follow the advice of my grandmother with me: a classic never dies. Here's a look at some beloved Halloween costumes from The Office.
Jim As Facebook
I mean, you don't even have to buy anything for this one. Just write on your face and boom, you're topical.
Michael Scott As Everything
While it would be amazing to just wear a suit, slick your hair back, and slap on a "Hi, my name is Michael Scott, Regional Sales Manager for Dunder Mifflin. That's what she said." name tag, you could also consider dressing up as one of Michael's best costumes. Personal favorite? Two-headed Michael.
Pam Beasly
Because we love her.
Dwight K. Schrute As Himself
While Dwight would prefer to be dressed as a Gryffindor, obviously, I think the man himself deserves a simple homage of short-sleeved mustard button down, brown clip-on tie, and awkward glasses.
Group Costume - Part Planning Committee
Instead of getting three of your girls to join you as Ghostbusters (also pretty amazing, fyi), why not got as Pam, Angela, Phyllis, and Meredith from the party planning committee?
Creed As The Joker
Scarier than the real Joker...
Kevin As Charlie Brown
And a little shout-out to Angela as Nancy Reagan.
If I had worked at The Office, I might have been tempted to try a little harder with my obscure Halloween costumes. Because even when they're not trying, their costumes are amazing.