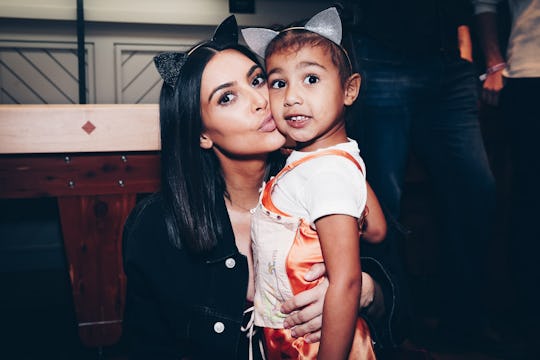 Handout/Getty Images Entertainment/Getty Images
Why Are We Sexualizing North West?
As adults, we tend to ascribe a lot of adjectives to clothing. We may describe a shirt as "flirty," a dress as "racy," or a pair of jeans as "sexy," depending on what we like and who is wearing the garment. These descriptions can be all well and good when they're used by the adult wearing the outfit — until, that is, children are brought into the mix. Take, for example, how people have reacted to a recent photo of Kim Kardashian West's daughter, North. There is one huge problem with the way we're talking about North West: The 4-year-old Kardashian is being treated as if she's a sexual being as a result of her outfit and, thus, can be slut-shamed.
In the photo, which surfaced Tuesday, North is wearing a black baseball cap, custom Yeezy kicks, and an orange spaghetti-strapped dress with a corset-like decoration. There's nothing special about the outfit, other than the fact that the cap and the sneakers are part of Kardashian West's new children's clothing line, The Kids Supply, which she designed with husband Kayne West. Yet, according to Yahoo! Style, people took to social media to criticize this little girl and her mother. They claim the outfit is "sending the wrong message" and that it's "too provocative" for a 4-year-old.
People, especially young girls, can't send the wrong message with their clothes. Why? Because they're young children — and young children cannot consent to being sexualized or be sexual beings. According to the Sexuality Resource Center for Parents, kids at North West's age are still trying to figure out the concepts of privacy and modesty. Most kids do not become developmentally ready to understand sex until their pre- to early-teen years. Plus, the United States has age of consent laws to help protect minors from predatory adults behavior; legally, a children cannot consent to sex until 16 or 17 years old, depending on the state.
So, that begs the question, why are people slut-shaming a 4-year-old girl or anyone for that matter? Why are they taking bets on her sexual behavior as an adult? Why are people projecting these sexual judgments onto a child who cannot consent, nor has the capacity, to understand what sex is in the first place?
North West has worn the dress in question before, by the way. It is the same outfit she had on during her fourth birthday party last month; it's not an item in The Kids Supply, as Kardashian West explained, according to Page Six. The only difference is between the two ways the dress is styled: At her birthday shindig, North wore a white undershirt. And it doesn't seem anyone had an issue with her outfit back then.
Whether or not North is donning a shirt under the dress shouldn't matter. She is just a child wearing an outfit that she likes. And that's all.
This sexualization of young girls almost as soon as they can walk is what leads to that same sexualization of them later on as adults. Saying "Let the child be a child" turns into "Leave something to the imagination!" or into the question that rape survivors always get: "What were you wearing that night?" We need to stop it before it can start.