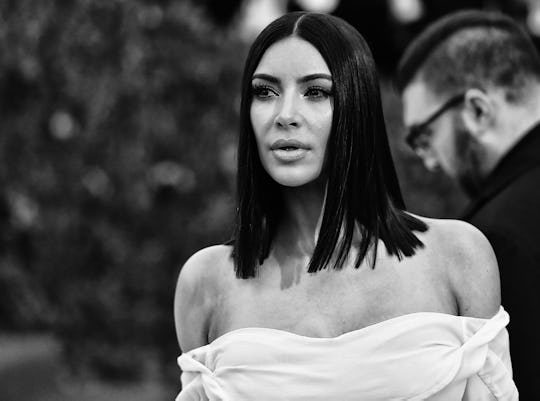 Mike Coppola/Getty Images Entertainment/Getty Images
How To Get Kim Kardashian's Kids Clothing Line On…
Kim Kardashian-West's kids clothing line, which she designed with husband Kanye West for The Kids Supply, is about to get a fresh injection of new pieces. Custom-designed Yeezys, swimsuits, dresses, sweats, and accessories will all drop Monday, July 17. Unfortunately, while the clothes all look adorable, they tend to be on the pricey side. Which is why parents need to know how to get Kim Kardashian's kids clothing line on sale and avoid having to remortgage their homes.
So this is one of those good news-bad news-good news situations. First the good news: Kardashian's new collection looks great. Although it has yet to be launched, the Keeping Up With The Kardashians star has been leaking sneak peeks on Snapchat. From what fans have seen so far, the line has been getting (mostly) rave reviews, aside from a few seemingly lingerie-inspired pieces that are getting people all heated. Otherwise, the recent collection looks to be staying in the same vein as the original, Calabasas-inspired line. Kardashian is originally from Calabasas, California, and much of the first line for The Kids Supply was designed to echo her hometown. For example, it included a tiny bomber jacket with a map of Calabasas embroidered on the back.
Editor's Note: This Instagram post has since been deleted.
So now the bad news: much like the original line for Kids Supply, the new items are bound to be pricey. The line ranges from $20 to $250, which means you might be able to pick up the odd inexpensive piece. Like a t-shirt designed by rapper West himself, which retails for $22. The majority of the pieces, unfortunately, run considerably higher. Like the bomber jacket that sells for $240, it can feel like a bit of a commitment for a person who is still growing.
The prices are a little high, and the pieces are pretty exclusive (visit The Kids Supply website and you will come up against a password protection... fancy). Which naturally means you won't be finding Kardashian's clothing line on sale any time soon. But hey; the sizing has been extended to include up to a child's size 12, so that's positive, right?
Let's end things on a positive note. Kardashian's line for The Kids Supply might be pricey and might not go on sale in the near future, but her other line, Kardashian Kids, is adorable and less expensive. The line is available at a variety of outlets like Toys "R" Us, Lord and Taylor, and Nordstrom. And you can pick pieces up on sale for less than $30. So you have options, guys, and life is good.