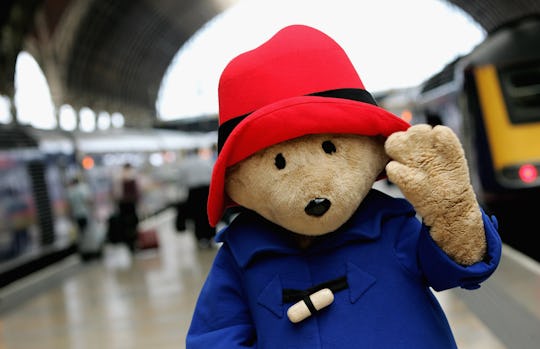 Gareth Cattermole/Getty Images Entertainment/Getty Images
The One Thing You Never Knew About Paddington Bear
Michael Bond, the creator of Paddington Bear (everyone's favorite well-heeled bear), died at his home on Tuesday, according to CNN. He was 91 years old. Fans mourned the beloved author via the internet and took a moment to consider Paddington Bear and what he meant to them. But there's one thing many never knew about Paddington Bear, and it's an important detail that feels especially poignant right now.
Paddington Bear was a refugee.
The first book Bond wrote in 1958, A Bear Called Paddington, introduced a small, orphaned bear who is found at Paddington station in London carrying a little suitcase and a note that reads:
Please look after this bear. Thank you.
The Brown family takes Paddington Bear into their home, and the series ends up following him on his adventures around the world. Bond reportedly took his inspiration from a few places; he had seen an abandoned stuffed bear at the rail station near his home in London. And he considered the displaced Jewish children coming into Reading Station in London not long after the beginning of the second world war. As Bond told The Daily Telegraph in an interview in 2014:
I remember their labels round their necks and then I remember going to the cinema and seeing on the newsreel that Hitler had moved into some new country and seeing footage of elderly people pushing prams with all their belongings in them. Refugees are the saddest sight, I still think that.
Bond also spoke to the news outlet about a great friend of Paddington's, the shop owner Dr. Gruber. The character was based on a good friend of Bond's, a German Jew who fled Nazi Germany during the war with little more than Paddington himself, according to The Daily Telegraph:
He was in line to be the youngest judge in Germany, when he was warned his name was on a list, so he got out and came to England with just a suitcase and £25 to his name.
In the wake of Bond's death, one has to wonder what sort of welcome Paddington Bear might receive in the world as we know it today? When the president of the United States seeks to limit refugees seeking safe harbor and effectively shut down the borders at every turn.
When people all over the world seem to take a morbid sort of pride in turning a blind eye to the most vulnerable among us, the sick and the frightened and the meek.
Would Paddington Bear, he of the excellent marmalade, the sad eyes, the red boots and toggle coat, be sitting alone at a station waiting for someone to love him? Would someone love him?
Or would he be sent back to his homeland and forgotten?