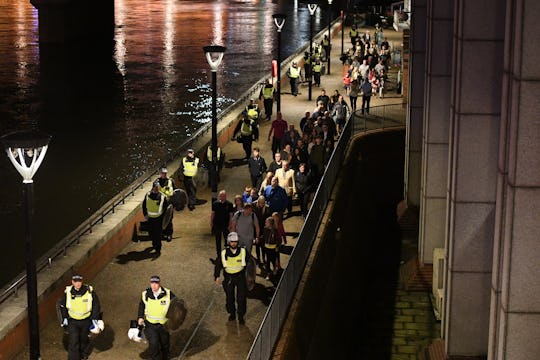 Carl Court/Getty Images News/Getty Images
The One Simple Tweet From London That Shows Why It Will Never Succumb To Terror
In the aftermath of the two terror incidents on and around London Bridge Saturday night, the most outrageous responses got lots of attention. But one tweet from the London Bridge incident proves London will never stop welcoming strangers, those who are different, and those who are in need, and its simple humanity is our best defense against the forces of terror in our world.
UPDATE: The London Bridge attack has since been declared a terrorist incident, according to the Associated Press. London Metropolitan Police Commissioner Cressida Dick on Sunday confirmed that the death toll in the London Bridge attack had been raised to seven, not including three of the attackers, with at least 48 others injured. Dick added that the remaining injured had been transported "to five hospitals across London." Some were in critical condition. The three attackers "were fatally shot by officers within eight minutes of the first emergency call," according to The Washington Post. An additional 12 people have also been arrested in connection with the attack.
The nearby Vauxhall stabbing was later declared not to be part of the London Bridge attack, but a separate incident.
EARLIER: The violence started late Saturday when a van mowed down pedestrians on London Bridge in the British capital's Westminster neighborhood. Shortly after, an assailant carrying a large knife reportedly entered a restaurant in Borough Market just south of the bridge and stabbed two people, CNN reported.
As politicians, celebrities, and everyone else began to weigh in via social media, Twitter filled with the mix of reactions that usually follow a terrorist attack: thoughts and prayers, some of those very poignant; garden variety Islamophobia; and lots suggesting that this never would have happened if the United Kingdom adopted Donald Trump's stance on immigration and quit its pesky practice of taking in refugees and those working their asses off to make the best of their one, precious life. London is known for being a city of immigrants, and its current mayor is a practicing Muslim.
Trump's own tweets about the situation in London exhibited a breathtaking ignorance and lack of compassion. He first retweeted a tweet reporting unconfirmed information about the attacks, then tweeted saying the London attacks prove the U.S. needs his proposed travel ban barring immigrants from several predominantly Muslim countries. Only after that did he express sympathy and support for the people of London.
So it's unfortunate but not surprising that tweets like those got lots of eyes late Saturday night and early Sunday morning. The good news is that ordinary Londoners took to social media to prove that premeditated mass violence will never trick them into shutting out anyone based on their religion, race, or any other difference. One of those was Twitter user schizoaffected, whose bio reads "Asexual, vegetarian, single parent, feminist." Just before midnight London time, she sent out a very simple FYI to other residents of her city stranded because train service was suspended:
Soon after, the hashtag #roomforlondon got going, and many more individuals used it to offer complete strangers shelter on a night when people feared for a while that the violence might not stop. Can you imagine inviting anyone in New York City or Atlanta or Chicago or Los Angeles — anyone — to come stay at your apartment for the night? Those who lived through 9/11 in New York might be able to, but for many of us it's a daunting concept. And yet that's the level of compassion and empathy so many Londoners rose to effortlessly this weekend — or maybe they have always been that compassionate. Maybe they didn't even need to rise to it. And that spirit in the face of victimization is both exactly what terrorists are trying to squelch and exactly why they won't succeed.
Tweets like this one make it clear that London will always be a place of welcome. As residents demonstrated tonight, it's integral to the city and its people, so much so that they can extend it almost casually amid total chaos. As @schizoaffected put it, "it goes without saying."