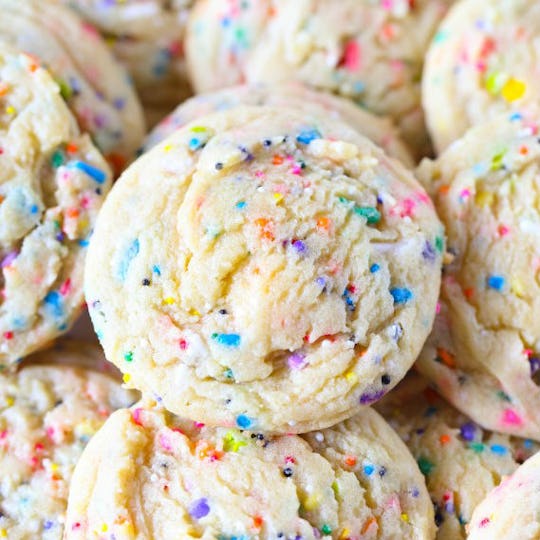 The Only Cookie Recipe You Need For The Rest Of Your Life (Sorry Chocolate Chips)
It doesn't get much better than cookies and milk, does it? I'm fully convinced that warm cookies being served at any kind of political event could bring everyone off of their high horse and promote teamwork, friendship, and love. But maybe that's just me being a romantic. The thing about cookies is that there's so many different kinds (literally, SO many), it's always easy to make someone's favorite. You probably have your own tried and true recipe that you can make from memory, but I'm telling you right now, there is one cookie recipe you need in your life thanks to Cookies and Cups. I know you love chocolate chip and your best friend is a diehard peanut butter fan, but these super soft sprinkle pudding cookies are it. The best part? They're totally versatile.
The trick to these cookies is adding a packet of instant pudding to the dough. Not only does it make the cookie incredibly soft and delectable, but it also gives some pizazz to the flavor. The recipe calls for vanilla pudding, but you could try butterscotch, banana, or even chocolate depending on your tastes. And the sprinkles? They make these the sweetest, cutest cookies ever. Again, something you could change up to fit a theme. Go for Christmas themed sprinkles during the holidays or stick to all pink or all blue for a gender reveal party.
But the recipe is foolproof. There is no chill time required, no rolling dough, no cutting out shapes — just scoop and bake. They only take eight to ten minutes in the oven for perfect, soft, irresistible cookies. Make them when you're hosting a birthday party, make them when you need a housewarming gift for your friend, and make them when it's 2:00 on a Tuesday afternoon and you need something sweet. Everything about these super soft sprinkle pudding cookies is lovely, and it's a total crowd favorite. You can keep all of your fancy cookies with the nuts, the cranberries, and the spices. So head over to Cookies and Cups and print her sprinkle pudding cookie recipe STAT! You won't regret it — I promise.
Images: Cookies and Cups (2)