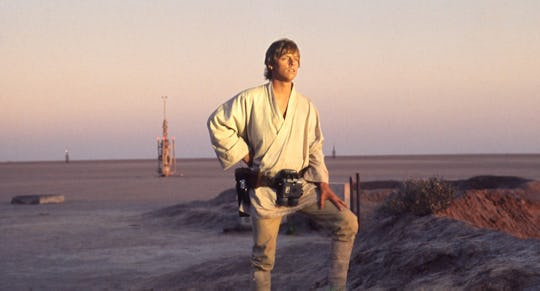 Lucasfilms/Disney
What Are The Origins Of May The 4th?
With the 40th anniversary of the premiere of Star Wars: Episode IV - A New Hope just around the corner, Star Wars fans everywhere are gearing up for this year's monumental May The 4th. Commonly known as Star Wars Day, the origins of May the 4th as a holiday are as mysterious as the plot to Star Wars: Episode IX. But what exactly started the unofficial holiday and why is it so very important to fans?
Apparently thanks should go to Margaret Thatcher for the holiest of cinematic holidays. According to Entertainment Weekly, the Conservative Party celebrated Thatcher's election by taking out an ad in the London Evening News which read, "May the 4th Be With You, Maggie. Congratulations," after the British stateswoman won the office of prime minister of the UK on May 4, 1979.
However, the pun on the phrase "May the Force be with you," often spoken by the Jedi and Rebel Alliance leaders as encouragement and a good luck wish, didn't become a hit phrase until decades later, thanks to the internet, of course. Once it did, fans quickly embraced May the 4th as Star Wars Day thanks to the play on words and have celebrated it enthusiastically ever since.
Thanks to the age of social media and the many memes, GIFs and May the 4th tweets, the holiday has grown into a fan's favorite day. According to TIME magazine, the first gathering came in 2011 when the Toronto Underground Cinema in Canada put together a May the 4th celebration with a film festival and a costume contest. Since then, the official Star Wars website has come to recognize Star Wars Day and many businesses have caught up by offering special deals and discounts on Star Wars-related merchandise.
When it comes to celebrating May the 4th, the possibilities are endless. A favorite activity is introducing new friends and family to the beloved franchise. Watching in release order (meaning 4, 5, 6, 1, 2, 3) or episode order (meaning 1, 2, 3, 4, 5, 6) is popular, but these days diehard fans claim that Machete order (meaning watching the Star Wars saga as 4, 5, 2, 3, 6) is best. This solves the problem of having to struggle through the much-hated Episode I and instead the series favors Anakin Skywalker's storyline.
Of course, inviting friends and family over to watch the movies in whichever order on May 4 might just be the best way to celebrate this holiday that first started with Margaret Thatcher. But whatever way that fans choose to celebrate Star Wars Day and the 40th anniversary of the movies. May the fourth be with you all.