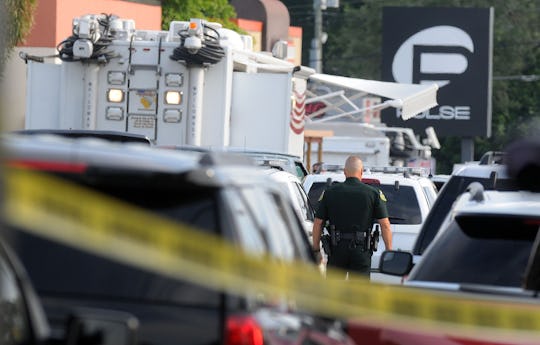 Gerardo Mora/Getty Images News/Getty Images
The Orlando Pulse Shooting Death Toll Continues To Rise, Leaving Many Feeling Helpless
(Update: The FBI has updated the death toll to 49 victims. The shooter was also killed.)
EARLIER: On Sunday morning, the nation awoke to news that over 20 people were killed in a mass shooting at gay Orlando nightclub Pulse. The news was hard to stomach, particularly one day after another shooting occurred in the area (when Voice contestant Christina Grimmie was shot following a show), and after over 150 mass shootings in the U.S. this year alone had left many confused, afraid, and helpless. But, when the death toll in the Orlando nightclub shooting only continued to rise, "helpless" didn't even begin to cut how many felt.
Hours after authorities confirmed an hours-long standoff with a lone gunman, who has been identified by authorities as 29-year-old Omar Saddiqui Mateen, officials announced that over 50 were killed at the nightclub, which was holding over 320 individuals during the incident. The shooter was killed by authorities during the hostage situation, but that hardly makes those who heard the incident unfold breathe a sigh of relief. Because that death toll makes the Orlando Pulse shooting is officially the worst mass shooting in U.S. history. And considering mass shootings in the U.S. only continue to occur, it's easy to imagine that the deadly number could be eclipsed not too soon in the future.
Details surrounding the Pulse shooting, which is being labeled a terror attack, are continuing to unfold, so the death toll may very well continue to rise, along with the number of those wounded. (Currently, authorities say over 50 have been admitted to hospitals.) But there seems to be one collective reaction that all have following the news of the shooting.
And hopefully no more lives have to be taken because of it.