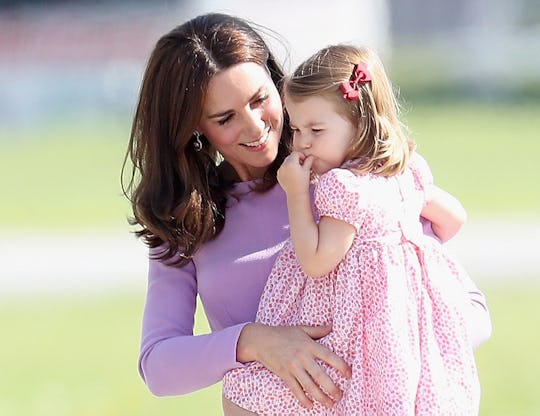 Chris Jackson/Getty Images Entertainment/Getty Images
Kate Middleton Reportedly Uses This Simple Parenting Trick To Get The Royal Kiddos To Behave
The Duchess of Cambridge was at a polo match supporting her husband, the Duke of Cambridge, on Sunday with her two older children. It was already a busy weekend for dynamic royal duo, 4-year-old Prince George and 3-year-old Princess Charlotte. They joined their parents and the rest of the royal family to watch the Trooping The Colour on Saturday on the balcony at Buckingham Palace in front of a massive crowd. Yet, they were remarkably well-behaved at the polo match. Why? Their mom Kate Middleton reportedly used this parenting trick to get her kids to behave, and it's genius in its simplicity.
The family was on hand to support Prince William as he played in the Mazarati Polo Charity trophy match in Gloucester, England, according to Hello! Magazine. Well, the family minus one member: 6-week-old baby brother Prince Louis, who is presumably too young to cheer his dad on anyhow. Prince George and Princess Charlotte looked to be having the time of their lives on the sidelines, however, while Middleton looked positively zen-like, content and laughing with her kids. I get it. Any mom who has just welcomed a third baby knows that feeling; it's nice to have a few hours to focus on the older kids.
Besides, an onlooker at the polo match told People that the Duchess of Cambridge was smart enough to guarantee herself a day of well-behaved kids... essentially, let them frolic in the grass until they're too exhausted to move. The onlooker reportedly told People, "Kate is a fantastic mum. She was calm with the children. She let them have their head."
The Duchess of Cambridge was apparently even clever enough to make a game of it, as the onlooker reportedly overheard her saying, according to People:
She seemed to say to them, "First to the polo field is the winner!" She was trying to get them tired before they had to get back in the car to leave.
It's a brilliant trick that seemed to work like a charm for the young royals. Both Prince George and Princess Charlotte were seen sliding down hills, running through the grass, and generally tiring themselves out. Which must have felt pretty darn great after all the formality of the Trooping The Colour on Saturday, when the royal children had to be on their very best behavior, standing on the balcony with the entire British monarchy alongside them, just basically waving forever.
But even then, Prince George and Princess Charlotte found a way to have a little fun, at least, thanks to their 7-year-old cousin, Savannah Phillips.
The daughter of Prince William's older cousin Peter Phillips, who is the son of Princess Anne, seemed to whip the two younger kids up into good spirits. I mean, Prince George didn't even mind when she shushed him in front of the whole world. And he's very well going to be a king someday.
As for Princess Charlotte; she managed to entertain herself by copying Queen Elizabeth's trademark wave.
The weekend was not without its tough parenting moments, however; Middleton had to be quick on her feet when Princess Charlotte fell on the balcony and got upset, according to TIME. And she also had to step in with Prince George at the polo match on Sunday when he got stressed out, as Cosmopolitan reported. Of course, she pulled off each mom moment like a champ.
That's the thing about Kate Middleton; she seems the most natural and confident when she's being a mom. It doesn't matter that she's a duchess; she knows to get the kids tired out in time for the car ride home. This is even more imperative when you have a baby waiting at home who might not sleep through the night.
If Kate Middleton didn't already have a job as future Queen of England, I would say she'd make a heck of a parenting coach.