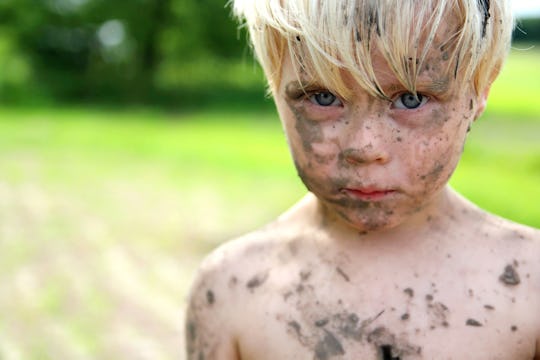 Fotolia
Parents On Reddit Revel Why 3-Year-Olds Are Actually The Worst
I have had two 3-year-old children, and I'm already counting down the days until my last child turns 3-years-old, too. Looking forward to it, you ask? Ha! And, nope. Trust me when I say I'm shaking in my foreshadowing boots with abject terror. Why? Oh, you know, it's just that 3-year-olds are actually the worst. No, really. I'm serious. Say what you will about 2-year-old toddlers and how terrible they are, but I'm here to tell you once and for all: 3-year-old children take the terrible cake, then they throw that cake on the ground and stomp all over it because they're terrible.
Reddit user YackBack posed the serious question: "At what age is your child the worst?" Let me tell you something, dear reader, that the parents of Reddit did not disappoint. A ridiculous amount of caregivers said 3-year-olds gave all other ages, including 2-year-olds and teenagers, a run for their money in the worst of the worst department.
I remember breathing a sigh of relief when my eldest child passed their third birthday. The terrible twos were finally over! Rejoice! Boy, was I in for a rude awakening when the horrors associated with 2-year-old toddlers suddenly, and viciously, multiplied exponentially. With my second child I was more prepared, but also lulled into a false sense of security due to kid number two's mild temperament. I wish I could tell you anything other than the truth, which is that my sweet, cuddly, loving son turned into a raging, tantrum-throwing monster the day he turned 3-years-old. So even though I know what to expect the moment my youngest turns 3, I also know noting can adequately prepare me for the terror ahead. My partner and I just have to grit our teeth and get through it. According to the following parents of Reddit, at least we're not alone.