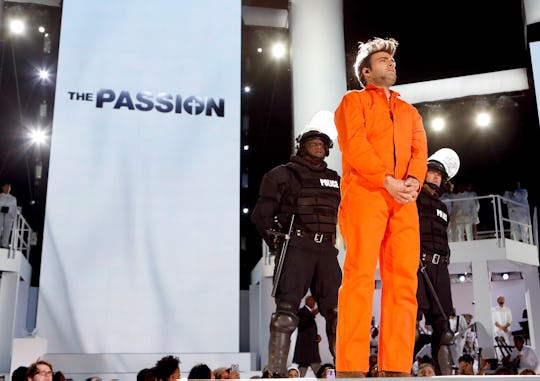 Skip Bolen/Getty Images Entertainment/Getty Images
'The Passion' Skipped Jesus' Death, & That Was Probably Wise
FOX's live musical event, The Passion, seemed to be driving toward the inevitable, inexorable conclusion of Jesus Christ's death by crucification at the cross—so we were all understandably a bit perplexed when we realized that The Passion didn't show Jesus' death... or explain his sudden disappearance at all. One minute, director, screenwriter, and budding live musical narrator Tyler Perry is telling us, in gruesome detail, how Christ died. Then, after a commercial break, we're all expecting to see the actual reenactment of the event... and then we realize that this musical is over. Christ has ascended to Heaven, and we're conspicuously missing one crucifixion scene.
Given that The Passion was billed as a a modern-day reenactment of Christ's final days—with New Orleans serving as the modern analogue for Jerusalem—it's surprising that the climax of the story was entirely omitted. After all, this was a live production with a huge budget and rather extravagant props, including a 235-pound, 20-foot glowing cross that was carried in a processional through the streets of New Orleans. (I'm not making this up.) Given the emphasis on the cross, viewers were understandably awaiting for that cross to take center stage.
And it totally seemed like Perry was setting the stage for a death scene when he gave a speech detailing the savagery of the crucifixion. "I'll tell you what they did to him, " Perry said in a grave tone. "A victim is stretched out on top of a wooden cross. Seven inch nails are inserted through the wrist bone. Then they turned his legs sideways, and a single spike was hammered into both ankles..."
I'll stop there, but suffice to say, Perry didn't leave much to the imagination. Here's the full monologue: ‌
It was quite the lead-up, but then suddenly we're post-crucifixion, and Jesus is being resurrected to the tune of Kate Perry's "Unconditionally", singing on the rooftop of the nearby Westin hotel.
Honestly, though, it's probably for the best that The Passion's producers decided to skip over the crucifixion. For one, this is FOX, not HBO, and the level of gore allowed in a primetime network TV spot is limited. Plus, it wasn't Perry's intention to communicate the sadness and pain of the crucifixion — rather, Perry wanted to focus on the hopeful aspects of Jesus' last days. "I know what my intention is: to go in and do a great job and be a part of this wonderful positive message," Perry said in an interview with Billboard. "The idea of Christ's love for us all is inspiring to me."
If Perry wanted to stick with a positive message, the resurrection is certainly a better focal point than the crucifixion. Plus, The Passion aired on Palm Sunday, a day that celebrated Jesus' jovial entrance into Jerusalem... not a day that mourns his painful death.
Long story short, this was a feel-good musical, and folks weren't looking for a macabre death scene. They were looking for positive images of Jesus as a light in the darkness — and by the end of Sunday's big live broadcast, it seemed they had largely achieved that.