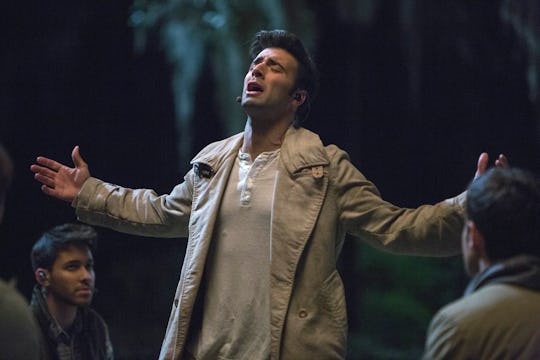 Michael Becker
Where Is Jesus At The End Of 'The Passion'? It's Definitely High
FOX's The Passion certainly threw viewers for a bit of a loop on Sunday night — and it seems the show's producers saved the best for last. Throughout the flurry of activity on Sunday night, fans were treated to musical numbers filmed live on location across several parts of New Orleans, from darkened back alleys to a gleaming white set next to the Mississippi and the Steamboat Natchez port, where Seal and Trisha Yearwood (portraying Pontius Pilate and Mary, respectively) serenaded viewers with modern day pop hits. However, by the end of the big evening, even the most eagle-eyed fans were taken aback when Jesus (played by Jencarlos Canela) suddenly appeared atop a high rooftop nearby. So where was Jesus at the end of The Passion? (More importantly, was he safe up there? I need to know!)
Turns out Canela—I mean... Jesus—was standing on top of the nearby Westin New Orleans Canal Place, which is just across the street from the city's Audubon Aquarium of the Americas (do you think he walked across the fish tank water to get there?).
Dressed in white clothing and standing close to the edge of the Westin rooftop, Canela sang a moving rendition of Katy Perry's "Unconditionally", eliciting notable gasps and surprised reactions from the crowd of fans below, as the rest of the show's cast joined in on the stage across the street.
Of course, safety first, right? According to The Passion's official Twitter, Canela was securely hooked to the floor behind him with a taut wire and harness system — and thank goodness for that, because while the singer wasn't necessarily standing atop the highest floor of the 29-story Westin hotel, he certainly was taking a risk climbing up there in such windy conditions in the first place. (Let's just say that, barring the show's careful safety harness, The Passion might have ended in a very different way.)
It seems that taking that calculated risk may have paid off in a big way: With the network's last big musical turn, Grease: Live!, ended up hauling in a staggering 12.2 million viewers — and given the obvious chatter on Twitter Sunday night, it looks like The Passion may very well have accomplished something similar. Would it be too gauche to "thank God" for that?