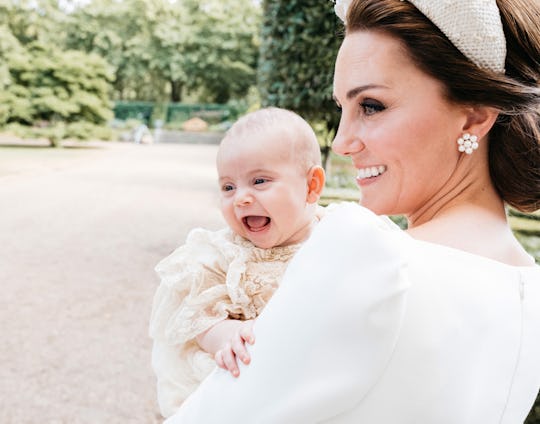 Handout/Getty Images Entertainment/Getty Images
Looks Like Prince Louis' Christening Photographer Took Those Iconic Photos At Lightening Speed
Matt Holyoak is a legendary celebrity photographer. He has worked with pretty much every movie star you can imagine, not to mention the fact that he has taken some of the most iconic photos of the royal family in recent memory. But even a consummate professional like Holyoak can only do so much when kids are involved. As the photographer at Prince Louis' christening, it appears that he had to work extra fast and it can be assumed that it was for one glaringly obvious reason: kids.
When little Prince Louis was baptized at Chapel Royal of St. James Place on July 9, almost the entire royal family was in attendance. Queen Elizabeth and Prince Phillip took a pass on the event due to a scheduling conflict, according to CNN, but the Duke and Duchess of Sussex were there to watch their nephew get baptized, as was the whole Middleton family, and Prince Charles and his wife Camilla Parker Bowles.
It's always tough to get a good picture of big families obviously, but let's not forget two extra little guests who might not have been fans of sitting still for pictures; Prince Louis' older siblings. That's right, 4-year-old Prince George and 3-year-old Princess Charlotte (and, of course, 3-month-old Prince Louis) were on hand for the christening, and photographer Matt Holyoak got some truly remarkable photos of the adorable kids.
But it doesn't look like he had a whole lot of time to get those iconic photos.
According to ELLE, the christening at Chapel Royal ended at 4:40 p.m. The Middletons and the royal family left the church to head next door to Clarence House, the home of Prince Charles and his wife Camilla Parker-Bowles, to take pictures in the Morning Room. A close look at Prince William's watch in the pictures, as noted by Hello! Magazine, indicates that the time was 4:50 p.m. That's 10 minutes to get the royal entourage, the Middletons, and three children under the age of 5 to pose for pictures.
And not just any pictures. Some really beautiful, natural looking pictures of arguably the most famous family in the world.
I mean, can we just talk about the way Princess Charlotte is staring at her baby brother with all that love in her eyes in this picture? Can we all just take a moment to appreciate this?
And of course, there's also the future King of England, the Duchess of Cornwall, Meghan Markle, Prince Harry, Prince William, Kate Middleton, and Prince George. Come on now.
Holyoak also managed to get the first official shot of the Duke and Duchess of Cambridge with all three of their children. Without anyone crying or looking like they were going to throw a tantrum.
In fact, Prince George is standing there with a hand in his pocket like the coolest cucumber alive.
After Holyoak's quick and legendary photo shoot, according to Business Insider, the guests all enjoyed afternoon tea at Clarence House with slices from the top tier of his parents' wedding cake from 2011 served. This is apparently a tradition in the royal family, and I'm not sure if I'm behind it, to be honest.
But I can certainly get behind this picture of the Duchess of Cambridge just absolutely in love with her baby boy. And his sweet little laughing face.
After decades of impossibly formal portraits of the royal family, these sort of intimate glimpses into their lives feel like a real treat. And even better, a non-invasive treat since these pictures were taken by a trusted, professional photographer rather than some paparazzi. Rather than intruding on a private moment and ruining it for the family, Matt Holyoak managed to share a behind-the-scenes look at the royal family in a way that feels respectful and appropriate.
And it looks like he managed to pull off the whole thing in 10 minutes or less to avoid squirmy kids. Because royal or not, kids just aren't fans of sitting still.