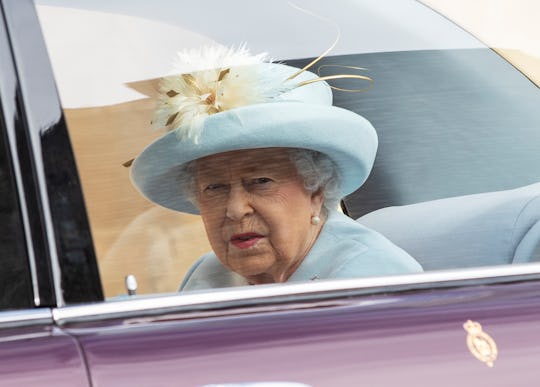 WPA Pool/Getty Images Entertainment/Getty Images
The Queen At Princess Eugenie's Wedding Looked Like Every Proud Granny
I've decided that Queen Elizabeth is perhaps not as stuffy as some might expect her to be. Sure, she's pretty strict about making most of the royal women wear the same nail polish as her, but I think she's trying to be pretty progressive — for a woman who was raised in a palace and is now 92 years old, that is. Take a look at the Queen at Princess Eugenie's wedding, for instance. There was a time in the not-so-distant past when a member of the royal family marrying a commoner would be seriously frowned upon, but this proud grandmother looked overjoyed to see one of her favorite grandchildren marry a man she loves.
As Town & Country reported, Queen Elizabeth has an especially-close relationship with Princess Eugenie, the youngest daughter of Prince Andrew, Duke of York and his ex-wife Sarah, Duchess of York. Despite the fact that neither Princess Eugenie nor her older sister Princess Beatrice have official royal duties, Princess Eugenie has been seen at the Queen's summer garden parties at Buckingham Palace and accompanied her to Easter Day church service at Windsor, coincidentally the same place where Eugenie married Jack Brooksbank on Friday. To make matters even more adorable, whenever Princess Eugenie mentions Her Majesty, she actually just refers to her as "Granny."
This wedding could feel special to Queen Elizabeth for another reason as well; she's on rather light royal duties. Because Princess Eugenie isn't an official working member of the royal family, her grandmother didn't have to approve of her fiancé or take part in every detail, as Town & Country reported. Happily, however, she did reportedly approve of Brooksbank from the outset and even was one of the first people to hear of the engagement, as Eugenie explained to the BBC:
Granny actually knew right at the beginning [of the engagement]. She was very happy as was my grandfather.
There could be a reason the Queen feels a special affinity for Princess Eugenie and her sister, Princess Beatrice. She was also the daughter of a second prince; her own father only became King George when his older brother King Edward abdicated his throne to marry American socialite Wallis Simpson. Also like Eugenie; Queen Elizabeth was famously close to her only sister, Princess Margaret. And royal fans all know Princess Beatrice is her sister's best friend and maid of honor at her wedding.
Queen Elizabeth might not be one of those effusive grandmothers who is always throwing their arms around their grandkids and begging for kisses, but she shows her affection in subtle, beautiful ways. For instance; she loaned her Greville emerald tiara to her granddaughter for her wedding day, which Princess Eugenie wore with pride and without a veil, according to Harper's Bazaar.
It's easy to forget that Queen Elizabeth is more than her title, more than the longest-reigning monarch in the history of the United Kingdom. She's also a mother and a grandmother to eight people she clearly loves. And sometimes, she's simply a grandmother watching her granddaughter marry a good man.