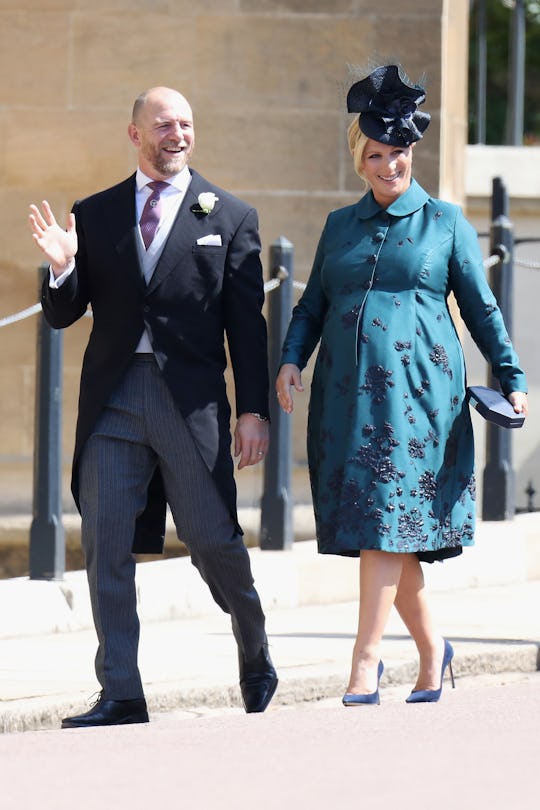 Chris Jackson/Getty Images Entertainment/Getty Images
Zara Tindall Opened Up About Suffering A Second Miscarriage Before Welcoming Her New Daughter
Being a member of the British royal family definitely comes with its perks, but even for those who aren't finding their faces on their covers of tabloid magazines, living life in the public eye can certainly be challenging. Like Catherine, the Duchess of Cambridge, has already clearly proven three times over, being a pregnant royal can mean that details you'd rather keep private can easily become headline news (Duchess Kate's hyperemesis gravidarum famously forced the royal couple to announce their first pregnancy super early on). But in a recent interview, the Queen's granddaughter Zara Tindall opened up about suffering a second miscarriage before she and husband, Mike Tindall, welcomed their youngest daughter earlier this year, and it's clear that navigating such heartbreaking experiences can be especially difficult when the world is watching.
Although Zara is the first cousin of Princes William and Harry — and currently 17th in line for the British throne — her mother, Princess Anne, opted against giving her and her brother, Peter Phillips, a royal title, which no doubt relieved at least a little bit of the pressure that can come with being born into royalty. In a chat with The Sunday Times, Zara and Phillips explained that they actually had a pretty normal childhood as a result, and in many ways, they sound like any other brother-sister duo. But being the Queen's granddaughter meant that her pregnancies have all been announced publicly — and it's meant that one of her miscarriages had to be, too.
Zara gave birth to her first daughter, Mia, in January 2014, and in November 2016, she and her husband released an official statement revealing that they were pregnant again, according to the BBC. In a tweet following the formal statement, Mike thanked well-wishers for their support, and wrote that he and his wife were "very very happy about the little one on its way," adding, "2017 is already starting well!!" But only a month later, they shared that they had sadly lost the baby, and Zara explained to The Sunday Times that she was already far enough along in her pregnancy that she actually had to deliver the little one.
Any couple who's had to go through that process knows how heartbreaking it is, but Zara told the outlet that for her, "the worst bit was that [they] had to tell everyone — everyone knew."
Zara said that her family was a huge support during that time, but sadly that wasn't the only loss she and Mike experienced: though she eventually became pregnant again, she miscarried early on. This time, at least, Zara told The Sunday Times she and Mike were able to process their feelings in private, and in time, the couple were also able to welcome a rainbow baby: their daughter, Lena, was born in June.
Zara's interview with The Sunday Times is the first time she's spoken about her second miscarriage, but in previous interviews, both she and Mike have opened up about the profound effect that pregnancy loss had on their lives. In May, Mike spoke to The Telegraph about their 2016 miscarriage, and explained that they'd learned the "devastating" news at their five-month ultrasound, and admitted that he and Zara struggled with wondering whether it was something they could have prevented. As he told The Telegraph:
You look at yourself and ask: Was it our fault? Was it something we did? I like to think that it happened for a reason, perhaps something wasn't right, otherwise it could eat you up from inside.
Mike also explained to The Telegraph that when you're expecting again after a pregnancy loss, it can be hard to avoid getting really anxious. With only a month to go until his daughter's birth at the time of the interview, he said that the waiting was proving to be really difficult, and told the publication, "It makes it uneasy, going through the pregnancy. You are always wondering what could be round the corner."
That's definitely a feeling that many couples who have been in a similar situation will understand — and in fact, Zara told The Sunday Times that after their 2016 loss, "loads of people wrote to [her] and Mike to say they'd been through the same thing," which at least allowed them to realize that they weren't alone.
Still, no matter what the circumstances, pregnancy loss is certainly never easy — and given that Zara has now revealed she had not one, but two, miscarriages, it definitely makes sense that her pregnancy with Lena must have been pretty stressful. But as hard as it must have been to experience publicly, the fact that they've since opened up about it means that other couples who have also experienced miscarriages are able to be reminded that it's not uncommon, and that the feelings of grief and fear are totally normal and understandable. And that's a message that all couples trying to conceive can't possibly hear enough.