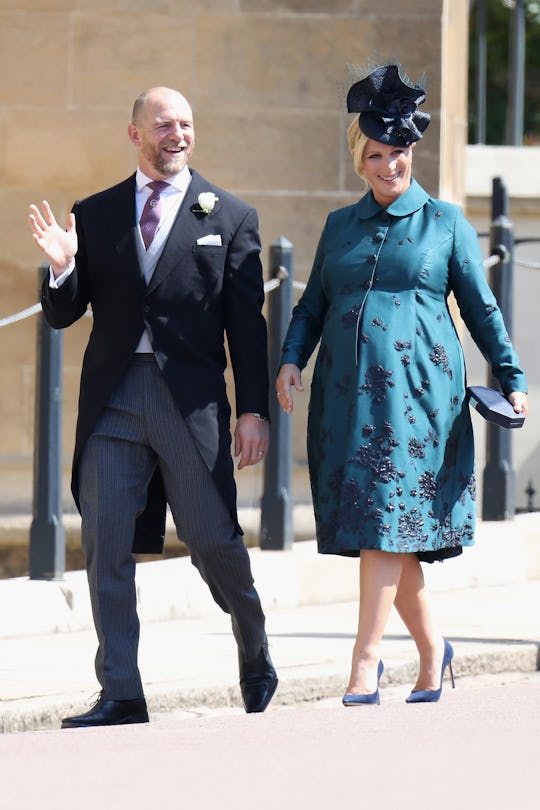 Chris Jackson/Getty Images Entertainment/Getty Images
Zara Tindall, Queen Elizabeth's Granddaughter, Welcomes Her 2nd Child, & It's So Sweet
It's been such a happy season for the royal family, with the birth of Prince Louis and the Duke and Duchess of Sussex's huge wedding earlier this spring. And now there's another reason to celebrate. On Monday, Zara Tindall, Queen Elizabeth's granddaughter, welcomed her second child and the family is obviously overjoyed. Tindall, the daughter of Princess Anne, gave birth to a baby girl at the Stroud Maternity Unit, according to a statement from Buckingham Palace. Her husband, Mike, was with her for the birth.
The palaces statement continued, "The Queen, The Duke of Edinburgh, The Princess Royal, Captain Mark Phillips and Mike's parents, Mr Philip and Mrs Linda Tindall, have been informed and are delighted with the news. The baby's name will be confirmed in due course." This is, according to the royal family's statement, "the fourth grandchild for The Princess Royal and the seventh great-grandchild for The Queen and The Duke of Edinburgh."
The Tindalls are also parents to 4-year-old Mia, who often stole the show at public events, long before Princess Charlotte knew to wave to the cameras. Mia was also a "saving grace" when her mom suffered a miscarriage just days before Christmas in 2016, according to her father.
The former rugby player told The Sunday Times in an interview at the time that the toddler helped him and his wife keep things in perspective after their loss. He said, "However down we feel she will come running up in our faces. When I was playing I hardly saw her; now we can see her grow up. I can take her swimming and I can take her to Ninja Tots. You'll never be able to see her there because she disappears in a puff of smoke."
Although Tindall is a member of the royal family by birth, she doesn't have a royal title. Neither she nor her brother Peter were entitled to royal status because, until 2011, the titles were only passed down through men, and not women. When she and Peter were born, Queen Elizabeth offered Princess Anne the chance to give her children "courtesy titles," as per People. But she declined.
And Princess Anne's choice ended up being a good thing, according to Tindall. She said in an interview with The Times in 2011, "I'm very lucky that both my parents decided to not use the title and we grew up and did all the things that gave us the opportunity to do."
Instead of royal duties, not having a title meant that she could pursue a career as a professional equestrian, going so far as to win the silver medal at the 2012 London Olympics. But the lack of title doesn't mean that she's not close to her cousins. The Duke and Duchess of Cambridge, for example, asked Tindall to be one of Prince George's godparents. That closeness has also been passed down to the kids.
Tindall told Hello! that Mia and her cousins, especially 5-year-old Savannah and 4-year-old Isla are very close. (Zara's brother Peter and his wife Autumn are their parents.) And they love playing with the new babies. He said that when Princess Charlotte was born, the cousins were thrilled.
"[Mia] and Savannah and Isla enjoy being around babies and were very gentle with her. We've got a good little crew of royal youngsters going on there now. They all seem to get on and enjoy each other's company and it'll be good to watch them grow up together," he shared. To be honest, these royal family gatherings sound like a lot of fun thanks to all the young kids literally running around.
Autumn said that Mia is a "wrecking ball" and a "little monkey," according to the International Business Times. "When we all get together, the dynamic is great. All the youngsters, our girls, Mia and Prince George, run down the corridors, laughing," she added.
So when Savannah tries to tell George to be quiet or they're pushing each other around on the lawn, it really is just fun and games. With the birth of another baby girl, the young royal squad has gained another member. Hopefully she and Prince Louis can band together for all of the antics.