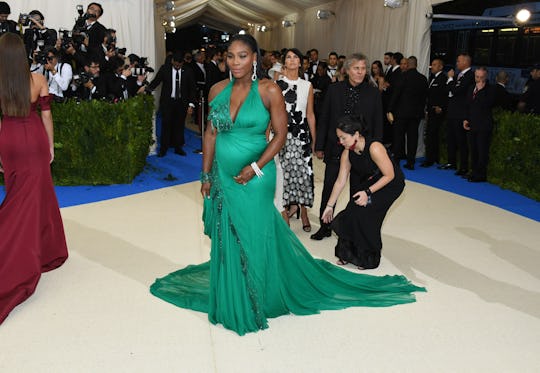 Dia Dipasupil/Getty Images Entertainment/Getty Images
Serena Williams Is Fine With Missing Wimbledon
Shortly after Serena Williams announced she was pregnant with her first child, tennis fans around the world wondered how the news would affect her career (which is strange, because no one is asking how it's going to affect her fiancé, Alexis Ohanian's career...). Considering Williams is a bonafide superstar, many fans expressed hope that she'd still attend Wimbledon. But honestly, Williams isn't mad about it. Actually, Williams is fine with missing Wimbledon, but not only because she's pregnant and cares about the wellbeing of her child — she's also just excited to have the time off to relax and spend with family.
If you've been following Williams throughout her pregnancy (who isn't?), then you know she's absolutely psyched to be a mom. Although tennis is still a big part of Williams life, right now she's 100 percent focused on her unborn baby with fiancé Ohanian. Essentially, Wimbledon isn't at the top of Williams' priority list at the moment.
According to ABC News, Williams said:
I'm actually coping well, I mean I have the best reason to not play. I wouldn't have it any other way.
"Best reason," indeed.
As for how Williams is spending the last trimester of her pregnancy, she's taking full advantage of her newfound downtime. It goes without saying that Williams new laid-back lifestyle is totally deserved, especially when you consider she has been managing an illustrious tennis career for almost 20 years.
Williams said, according to ABC News:
I've never had this time off before, or if I have I've been injured and it's really different to be injured as opposed to be expecting. I've been really enjoying my time off and getting ready for this new massive chapter in my life.
Although Williams is all about her pregnancy and life with Ohanian these days, it doesn't mean she hasn't been keeping up with Venus Williams' career, including her participation in Wimbledon. According to espnW, Williams watches Venus' games at home now that she can't be there in person. As one might expect, watching the games from the couch is still a nerve-wracking experience.
Williams said, according to espnW:
I'm as calm as a sister can be, which really isn't that calm. It's hard to watch her because I know her so well, but she's been playing really well. I'm so proud of her.
As Venus continues to slay at Wimbledon, it's hard not to feel a pang of sadness that Williams isn't also at the games. What's more important, however, is that Williams gets to enjoy this new chapter of her life without judgment and pressure from her fans. Williams is soaking up every moment of her pregnancy, and that's all that matters.