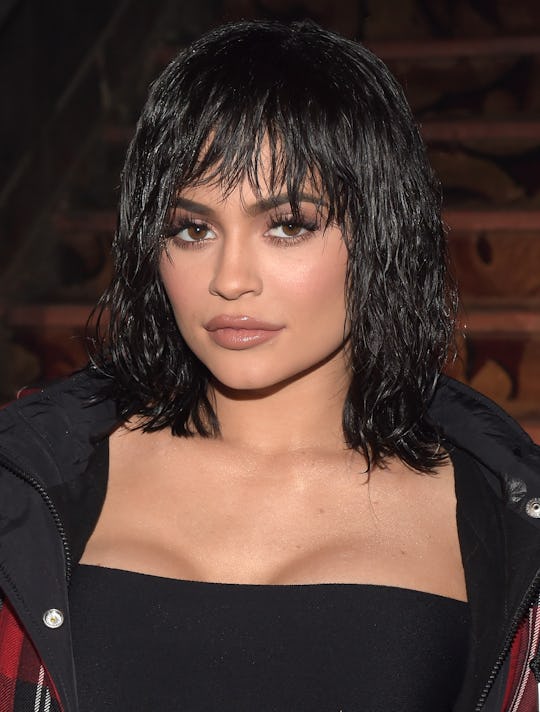 Jason Kempin/Getty Images Entertainment/Getty Images
The Reason Kylie Jenner May Not Reveal Her Reported Pregnancy Is Actually Pretty Relatable
Since September, fans have been wondering when Kylie Jenner will announce her reported pregnancy. In fact, it seems like this phantom pregnancy is the only thing Jenner's devoted legion of followers can talk about, which isn't too surprising given her intense popularity. Although it's totally OK for fans to be curious about Jenner's life, the never-ending fascination with her uterus has become a little too insensitive and invasive. And, as it turns out, there might be a very understandable and sympathetic reason as to why Kylie Jenner hasn't revealed her reported pregnancy yet.
If you've been following the Jenner-might-be-pregnant saga since the jump, you know that Jenner and and no one in her camp has spoken out on the supposed pregnancy. On Wednesday, Kim Kardashian dodged any questions about Jenner's baby status while chatting with Ellen DeGeneres, and Kris Jenner has also remained coy about the subject. In short, the Kardashian women seem to be doing a good job of guarding Jenner's privacy.
Of course, it's fair to wonder why Jenner would be private about this matter when she has been so open and public with everything else in her life. I mean, Jenner is the informal queen of social media, after all. Fans are used to seeing Jenner's face plastered all over the internet, and she was once very active on Snapchat. Fans are understandably confused and even a bit accusatory about Jenner's silence — some people have even speculated that Jenner is keeping things under wraps for fun.
So, what gives?
According to the Daily Mail, Jenner is "self-conscious" about her changing body. A source supposedly close to Jenner said:
Her body is changing and she's very self-conscious about it. She's always been insecure that she's not as curvy or pretty as her sisters. Kylie is only trusting her closest friends and her sisters right now. She wants to reveal things on her own terms but she's of course having fun teasing everyone.
If this rumor is true, it's a very relatable one. Many people feel uncomfortable and even unattractive while pregnant, including major celebrities. Not to mention Jenner has put forth a "sexy" image for years — one would could even argue that's what her entire brand is built upon. I imagine it would be hard for a person in Jenner's position to navigate the body changes of a pregnancy. Plus, she's only 19 years old — who isn't a tad insecure at that age?
The good news is, Jenner can vent to a lot of people about her insecurities, including her big sister Kim. Fans might remember that Kim had a really rough time while pregnant with North and Saint West. Kim said of feeling "insecure" while pregnant, according to Fit Pregnancy:
I just always feel like I'm not in my own skin. It's hard to explain. I don't feel sexy, either—I feel insecure and most of the time I just feel gross.
And on Sunday, celeb mom Jessica Alba revealed that she feels like "Humpty Dumpty" when she's expecting. While at the Baby2Baby Gala, Alba revealed, according to POPSUGAR:
I don't feel glamorous at all while I'm pregnant, so it's nice to kind of dress up and feel beautiful. I usually feel sort of like Humpty Dumpty, slothing around and hormonal, and nothing fits the same.
I could present a long list of other examples, but I think you get the gist. The point is, pregnancy is uncomfortable for a lot of people. Not only is it totally OK for Jenner to feel insecure about her changing body, but it's completely relatable. If Jenner wants to hide her alleged pregnancy for the time being, more power to her — she deserves the right to make that choice.