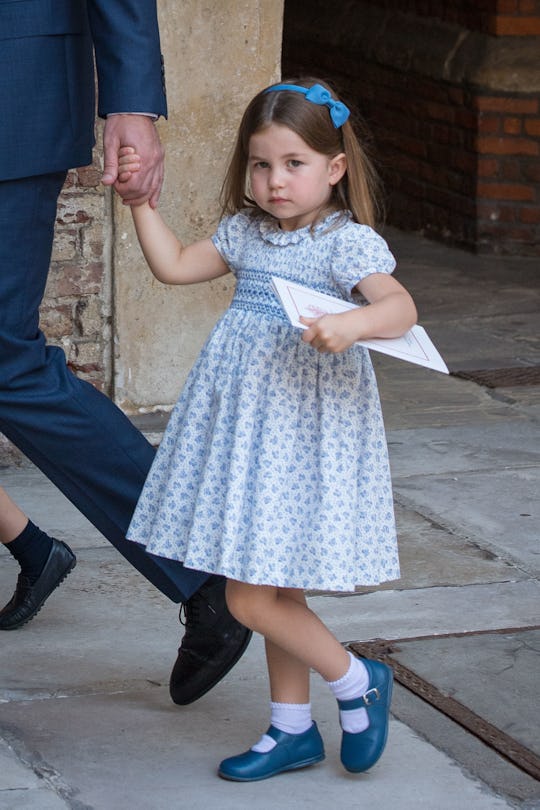 WPA Pool/Getty Images Entertainment/Getty Images
Princess Charlotte Always Wears Dresses For This Sweet Reason
I know not everyone out there is a fan of 3-year-old Princess Charlotte's style. If you haven't seen her lately, here's the best way I can think of to describe the young daughter of the Duke and Duchess of Cambridge; think of little girls from storybooks in the early 20th century and you will get a picture of the princess. At royal events she is always dressed in a variation of dress/patent leather mary janes/ankle socks, and if you're lucky a ribbon in her hair. Does her mom Kate Middleton have a weird dress fixation? Actually, the reson Princess Charlotte always wears dresses at events might be for a more practical reason than you think.
It turns out that Middleton could be trying to keep people from focusing too heavily on her children's clothing in an attempt to steer a little attention away from them. Children's clothing designer Rachel Riley, who has reportedly dressed Charlotte's 4-year-old brother Prince George, explained to The Telegraph that Middleton favors timeless clothing for a good reason; "I think they are going for clothing that is classic and timeless, rather than clothes that draw attention to them." In other words, don't let the child's clothing speak for them, give them a chance to speak for themselves.
And Princess Charlotte never seems to struggle too terribly when it comes to speaking for herself.
There's also the matter of royal tradition; as royal expert Marlene Koenig explained to Harper's Bazaar, young princesses wearing smocked dresses almost exclusively for outings has been happening for decades:
If you look at photos of young royal girls – from Princess Anne to Charlotte, you will notice that they tend to wear smocked dresses as little girls when they are in public with their parents.
There's also the fact that Kate Middleton herself has taken to wearing simple skirts and dresses almost exclusively since marrying Prince William in 2011. But before people start getting up in arms and worrying that Kate Middleton might not be allowed to wear pants because of some antiquated royal rule, think again. It's actually just a taste thing, as Koenig told Harper's Bazaar:
There are no rules about no pants. If the Duchess is in a dress in public and Charlotte is with her, most likely Charlotte, at this age, will be in a dress—also in formal portraits, or on the balcony for the Trooping of the Colour.
And who could forget Princess Charlotte's new aunt Meghan Markle stole the show in a pair of white pants at Wimbledon in July?
Of course, little Princess Charlotte isn't the only one of Middleton's children who dresses more traditionally than your average child. There have been articles aplenty about Prince George's affinity for wearing short pants, sweaters, and button-down shirts. All of which are basically the cutest thing ever. Plus sometimes he parts his hair on the side and puts his hand in his pocket, like in this picture from Prince Louis' baptism.
You're welcome in advance.
It isn't just the traditional dressing, Kate Middleton is also apparently one heck of a thrifty gal. She's been known to dress her children in royal hand-me-downs, not just from each other but from their uncle and father. Princess Charlotte wore her uncle Prince Harry's shoes in Poland, according to The Telegraph, while Prince George has worn just dozens of his own father's cardigans, shirts, and naturally, shorts. Even when Prince Louis made his royal debut in April, he did so in a sweet blanket that was handmade originally for Prince George's birth by GH Hurt and Sons in Nottinghamshire, according to Hello Magazine.
Sure, Princess Charlotte and her brothers might not be wearing the most recent children fashions. But there's something to be said for the classics, right? Especially since the royal kids wear them with such panache.