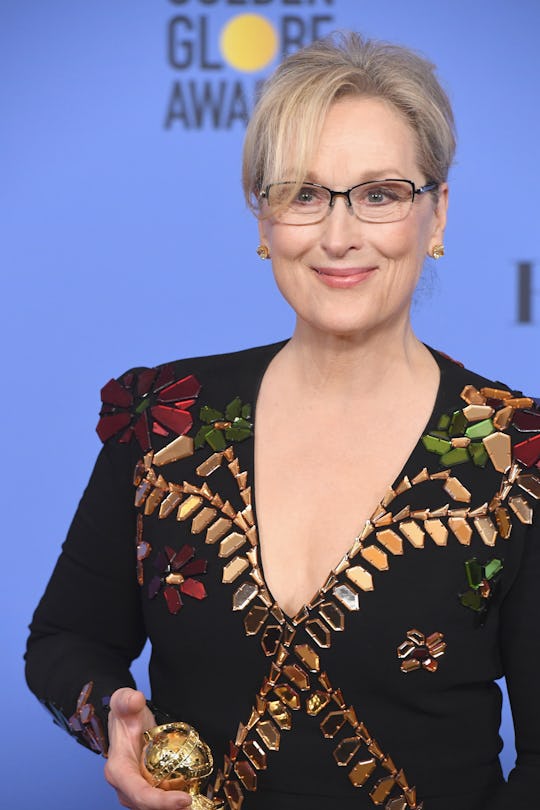 Kevin Winter/Getty Images Entertainment/Getty Images
The Reaction To Meryl Streep's Speech Is Sexist AF
On Monday morning, I woke up to a text message from my best friend: "Every year Meryl Streep ages, I love her a little more." I immediately turned to the Internet to find footage of Streep's now-infamous speech at the 2017 Golden Globes, where she accepted the Cecil B. DeMille Award on Sunday night.
Streep's speech did not disappoint. The nearly 6-minute address was an excoriation of Trump without explicitly referring to him by name, with Streep citing the President-elect's bullying of a disabled reporter as an example of his cruelty.
"This instinct to humiliate when it's modeled by someone in the public ... by someone powerful, it filters down into everyone's life because it kind of gives permission for other people to do the same," Streep said, adding: "When the powerful use their position to bully others, we all lose."
Streep's speech was stirring, eloquent, and to the point, serving as a clarion call to Americans to practice empathy and tolerance in the face of ignorance and cruelty. Yet many of the headlines I saw on Monday morning suggested that the media was more interested in what the President-Elect thought about Streep's speech than the message of the speech itself.
Take, for instance, the Boston Globe, which led with the headline "Donald Trump calls Meryl Streep a 'Hillary Lover' and 'flunky'." Or a New York Times article that devoted considerable ink to Trump denying that he mocked a disabled reporter, as Streep noted in her speech, concluding with a quote from Trump claiming that "dress shops are sold out in Washington" in preparation for his inauguration. (They are not.)
The more I thought about this, the angrier I got. Because when I searched for Meryl Streep's Cecil B. DeMille Acceptance speech, I was interested in hearing Streep's words. I wanted to hear her message. Yet when I looked at the coverage of the speech, the message was clear: the temper tantrum Trump was having on Twitter was worth more coverage than Steep's message of empathy and tolerance.
There's a widespread (and frankly, sexist) assumption that we'd rather hear a man's reaction to a woman's words than the woman's words themselves.
While introducing Streep, Viola Davis, a Hollywood powerhouse in her own right, said to Streep that, "You make me feel that what I have in me, my body, my face, my age, is enough." That's what I wanted to read: the words of a woman whose career has successfully spanned more than 40 years in an incredibly sexist, ageist industry; a woman who shows us that we are enough because of who we are, not what we look like. I wasn't interested in the petty and childish reactions we've come to expect from an equally petty and childish man.
But that was — in part — what I got. I got a Telegraph article devoted almost entirely to Trump's reaction to Streep, and how he was not surprised that he was the "subject of controversy for 'liberal movie people." I read op-eds from those wondering whether Streep was out of line in using her platform to make a political statement. There appears to be a widespread (and frankly, sexist) assumption that we'd rather hear a man's reaction to a woman's words than the woman's words themselves.
Granted, Trump is the President-Elect, so it's not like his remarks aren't newsworthy. Plus he's a self-fashioned Twitter provocateur, so the second Streep's speech went live, people were speculating how he would react on social media. (The answer, as it turns out: not well!)
Streep relegated Trump to a mere footnote in her call to action and her message of hope.
But by focusing so much on Trump's reaction to Streep's speech, we are missing Streep's point entirely. Throughout her speech last night, Streep didn't name the President-Elect when she talked about his mockery of a disabled reporter. This was a purposeful omission on her part: by not mentioning Trump, she relegated him to a footnote in her call to action and her message of hope. She took the focus off him and kept the focus on her message, and the end result was incredibly powerful.
I can't help but feel that by reporting on Trump's reaction to Streep's speech, people with extensive media platforms — people who, as Streep said, "need to hold power to account" —, are playing right into his tiny little hands. Instead of soberly reporting on his reaction, which we all knew was going to be childish and immature, why not call him out on the absurdity of his words? Why not say what he really did, which is throw yet another tantrum when someone called him out on his bad behavior?
In the weeks leading up to his inauguration, we can't ignore President-Elect Donald Trump. But what we can do is stop normalizing his words and actions. We can stop accepting his lies and abuse as business as usual, and we can start focusing on what Streep has to say: That diversity makes us better, that the privileged have a responsibility to stand up and act for those that have been and continue to be marginalized and oppressed, and that we must make art — because art, much like her acceptance speech, is a political act in itself.