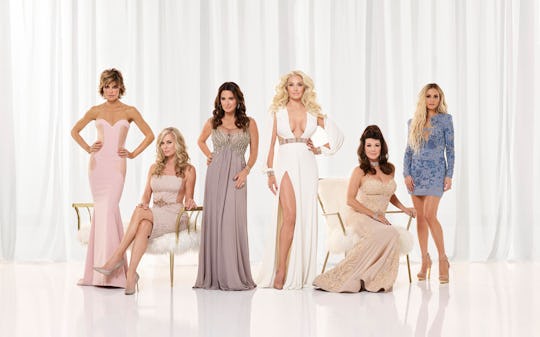 Richie Knapp/Bravo
The 'RHOBH' Cast Ranked By Net Worth Proves These Ladies Are Successful AF
There isn't a cast of women in the Real Housewives franchise who isn't living a lavish and totally over the top lifestyle that most fans would kill to have themselves, even for those housewives who might fall a little lower in the net worth category. But the Real Housewives of Beverly Hills cast ranked by net worth proves that they're all living as well as you probably thought they were, given the expensive cars, designer clothes, and gorgeous homes. Which, for some of them, includes multiple gorgeous homes, because why not?
Naturally, there is an unspoken competition among the women of RHOBH as far as having the most lavish and grandiose lifestyle goes, but to the average viewer watching, it's like one big jumbled and beautiful mess of expensive things that all seem equally as unaffordable to regular people. The truth is, though, some of the core cast member of RHOBH have drastically different net worths than the others, even if those on the lower end of the spectrum are still plenty wealthy.
Though by comparison, it's hard not to think about the RHOBH cast's net worth, if only to give you an idea of what their life is really like as far as bank accounts are concerned. Although fans will still love each of the housewives regardless, let's take a look at the RHOBH cast ranked by net worth, from most to least. Though if we're being honest here, they're all basically loaded.
Lisa Vanderpump — Estimated $65 Million
It probably comes as no surprise that Lisa Vanderpump is the most wealthy of the cast of RHOBH. With an estimated $65 million net worth, it's no wonder she throws such amazing parties that we all wish we could be a part of. Vanderpump earns a reported $500,000 per season of RHOBH, but she also earns a living by co-owning more than two dozen restaurants and she's also a writer for Beverly Hills Lifestyle Magazine. Can she please adopt me?
Camille Grammer — Estimated $50 Million
Camille may have once been married to actor Kelsey Grammer, but her fortune comes from her own career as well. During their marriage, Camille wrote and produced for their shared company Grammnet Productions and has been part of RHOBH for the past three seasons. As it stands, Camille's net worth is an estimated $50 million.
Dorit Kemsley — $50 Million
According to CelebrityNetWorth, Dorit Kemsley's net worth is an estimated $50 million. In addition to being one of the more recent RHOBH additions, Kemsley is also a swimwear designer and, along with husband Paul Kemsley, she helps run their management company, Nixxi Entertainment. She even comes with Boy George, who is a frequent houseguest in the couple's home and godfather to their son, Jagger.
Adrienne Maloof — $50 Million
Adrienne Maloof, best known for RHOBH, is also part-owner of her family's company Maloof Companies. Their business ventures include working with the Sacramento Kings, the Sacramento Monarchs, Maloof Productions, Maloof Music, and the Palms Casino Resort in Las Vegas. So it's really no wonder that Maloof's net worth is roughly $50 million.
Kyle Richards — $30 million
Kyle Richards makes an estimated $270,000 per season of RHOBH and, according to CelebrityNetWorth, has an overall net worth of roughly $30 million. Thanks in part to her family inheritance and marriage to luxury real estate mogul Mauricio Umansky, Richards has managed to remain as one of the most financially successful women on RHOBH. But, seeing as how she's been part of the cast since the very beginning, a lot of her success is owed to herself.
Eden Sassoon — $20 Million
Although her name is immediately recognizable as that of her father's highly successful and iconic salon empire, Eden Sassoon has been able to make a name (and a fortune) for herself. With her own salon EDEN by Eden Sassoon and two high end pilates studios in Los Angeles, Sassoon has an estimated net worth of $20 million.
Lisa Rinna — $8 Million
Lisa Rinna became an official housewife core cast member on RHOBH in Season 5, but before her time on RHOBH began, Rinna had already gotten plenty of TV work under her belt. She's been in Days of Our Lives, Veronica Mars, Dancing with the Stars, and even appeared on the cover of Playboy in 2009. Because of her own hard work, Rinna has an estimated net worth of $8 million.
Erika Girardi — $5 Million
For many RHOBH fans, Erika Girardi (or Erika Jayne, if you will) is one of the most fun housewives to watch. Not only is she always up for a good time and having fun, but she's also a recording artist whose songs are admittedly very catchy. Recently, she took her talents to another arena and competed on Season 24 of Dancing with the Stars. And, according to CelebrityNetWorth, Girardi's net worth is roughly $5 million. It's no Vanderpump money, but it's still impressive all the same.
Eileen Davidson — $3 Million
According to CelebrityNetWorth, Eileen Davidson's net worth is an estimated $3 million and rightfully so. The RHOBH star is a Daytime Emmy Award-winning actress who's had roles on both Days of Our Lives and The Young and the Restless. She's also written a handful of mystery novels with author Robert J. Randisi and has been part of the RHOBH cast since Season 5.
It's no big secret that the women of RHOBH are successful, but regardless of their net worths, we're all going to continue to live vicariously through them and their extravagant lifestyles.