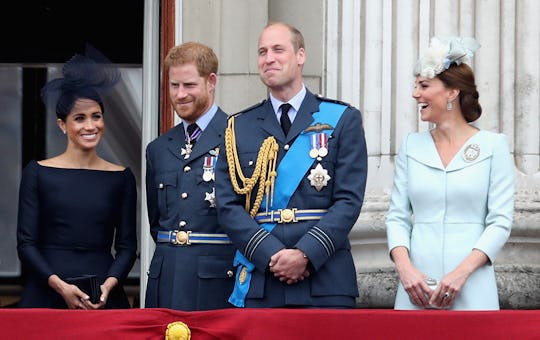 Chris Jackson/Getty Images Entertainment/Getty Images
The Royal Family's Views On Abortion Are A Well-Guarded Secret
The Duchess of Sussex might be a member of the royal family now that she has married the Duke of Sussex, but that's only a part of who she is, of course. Before becoming British royalty, Meghan Markle was an actress, a philanthropist, and a proud feminist. And it doesn't look like her time at Buckingham Palace is about to change that any time soon. As Markle stirs things up a little during her visit to Ireland by reportedly discussing the abortion ban, it begs the question; what are the royal family's views on abortion?
The former Suits actress and her husband Prince Harry are currently enjoying a royal tour of Ireland, where the topic of the recent Irish national referendum to scrap an abortion ban (which was approved by a landslide, according to TIME) apparently came up in conversation. According to The Irish Times, Senator Catherine Noone said in a since-deleted tweet that "The Duchess and I had a chat about the recent referendum result — she watched with interest and was pleased to see the result." Perhaps realizing how inflammatory such a statement could be, Noone followed up with another tweet to clarify: "I should say she seemed pleased — she was interested and very measured, not political at all." That tweet was also deleted after Noone admitted to The Irish Times that the initial tweet might have been "misleading."
So why is it such a big deal for Meghan Markle, a grown woman in her thirties who has never hidden the fact that she's a strong feminist, might have an opinion about abortion?
Because her new in-laws, also known as the royal family of Great Britain, is careful to never share an opinion on the subject. Being drawn into a discussion could be seen as a breach of protocol, according to Jezebel.
Queen Elizabeth is officially the longest-reigning monarch ever at 92 years old, and there's a reason why the British royal house of Windsor still thrives while other royal houses across the continent wither away; neutrality. While most of the power of the royal family has been slowly stripped away over the last few hundred years, to the point where the Queen's title of "Head of State" is really more of an honorary title, it is still a symbolic role that means a great deal to people. As the Queen's website notes:
As Head of State The Queen has to remain strictly neutral with respect to political matters, unable to vote or stand for election, however Her Majesty does have important ceremonial and formal roles in relation to the government of the UK.
This includes the terribly touchy matter of abortion rights, which gets doubly complicated for members of the royal family because of the Queen's other role; head of the Church of England. According to the BBC, the Church of England shares a similar view to that of the Roman Catholic Church; anti-abortion, as written by the governing body of the church:
The Church of England combines strong opposition to abortion with a recognition that there can be - strictly limited - conditions under which it may be morally preferable to any available alternative.
While the Church of England might take a pretty strict view on abortion rights, the royal family is decidedly more neutral. They don't comment either way on the situation; no judgment, no approval. Which might prove difficult for a feminist like Meghan Markle. A woman who insisted on walking herself at least partially down the aisle at her wedding, who wrote a letter to Hillary Clinton about a sexist dish soap ad, according to The Week, when she was 11 years old... and who might just have opinions about issues that affect women sometimes. Even if that's not the way the monarchy does things.