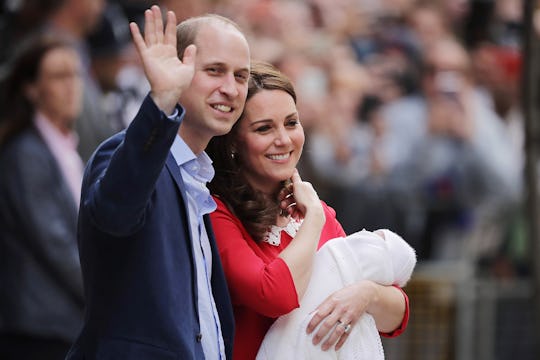 Dan Kitwood/Getty Images Entertainment/Getty Images
It Looks Like The Royal Family's Website *May* Have Accidentally Revealed The New Baby's Name
When the Duchess of Cambridge, Kate Middleton, welcomed her first two children, Prince George and Princess Charlotte, she and her husband, Prince William, were pretty quick to share their names. The general public knew within two days, and that felt right. I'm not quite sure what the hold up is now that the royal couple has welcomed their third child, a little prince, and it's been a whopping three days since he was born. But they might have been scooped, because it looks like the royal family's website may have accidentally revealed the new royal baby's name.
Prince William has been effortlessly dodging questions about his newborn son's name ever since the little one was born on Monday, April 23, in the Lindo Wing at St. Mary's Hospital in London, England. During an event at Westminster Abbey on Wednesday, for example, Australian High Commissioner Alexander Downer asked the new father of three what he thought of the name Alexander. The prince jokingly replied "Funny you should say that... it's a good name," according to The Mirror. Chuckle, chuckle, isn't he so droll.
Meanwhile British bookies suddenly rushed to add the name Alexander to the top of the list for people looking to place bets. But still, no actual name confirmation. Until Thursday, as People reported, perhaps, when a technical glitch on the royal family's website seemed to possibly reveal the new baby's name: Prince Albert.
According to the Daily Mail, every member of the royal family — from Queen Elizabeth II to Prince William and beyond — has a page specifically designated for them. But the pages for 4-year-old Prince George and 2-year-old Princess Charlotte both come up with an "access denied" message. And here's where things get interesting — the same message comes up if you type in "Prince Albert," which could mean the name has accidentally been revealed. That's right — the new royal baby could be called Prince Albert.
If you type in www.royal.uk/prince-albert, you'll be met with an "Access Denied" page, just like the page you'll get for Prince George and Princess Charlotte.
The name Albert has been popular with British bookies, generally coming in as the most common guess for the royal baby's name alongside the names Arthur, James and, of course, Alexander after Prince William got everyone excited about that name as a possibility. Albert wouldn't exactly be a surprising choice, considering the family history.
In the generations of royal babies since Queen Victoria married Prince Consort Albert in 1840, the name Albert has been reused as a middle name pretty frequently. As People noted, Albert is one of the middle names of both Prince Harry, Prince William's younger brother, and Prince Andrew, his uncle. And it was also the given name of his great grandfather, King George VI, before he took over as the king when his older brother abdicated the throne in 1936.
The royal family isn't exactly known for going rogue with their baby names, so Prince Albert could be a relatively safe choice. The name manages to cover a whole lot of bases in the royal family, and once a few middle names are thrown in there Middleton and Prince William could end up paying homage to, like, 10 or 11 family members in one fell swoop.
Much like the baby's older siblings, Prince George Alexander Louis and Princess Charlotte Diana, the royal baby's name is going to have to cover a lot of bases.
So if you're expecting something simple or even slightly quirky (I mean, Kate Middleton's sister's name is Pippa, so it's not like they've never heard of a name that's a little less traditional), prepare to be disappointed. The royal family needs to stick with tradition, at least publicly.
But that doesn't mean they can't come up with private nicknames, I suppose. So maybe if they do end up naming their little baby Prince Albert, they can give him a cute nickname, too.
Check out Romper's new video series, Bearing The Motherload, where disagreeing parents from different sides of an issue sit down with a mediator and talk about how to support (and not judge) each other's parenting perspectives. New episodes air Mondays on Facebook.