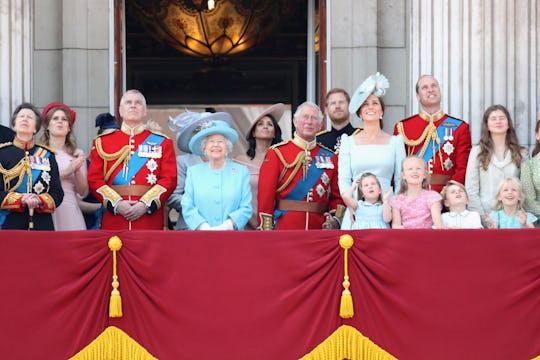 Chris Jackson/Chris Jackson Collection/Getty Images
5 Rules About Having Kids That Royal Parents Are Expected To Follow
Today's royal family seems like a slightly better-dressed version of yours or mine. Between the pictures of Kate Middleton and kids rolling in the grass, Princess Charlotte sticking out her tongue at paparazzi, or everyone squishing in together for a holiday snap, the Windsor bunch truly seem super-normal. And while they probably are totally relatable in real life (Prince Harry playing with kids? Come on, you can't fake that natural sense of fun), behind the scenes, there is a fair amount of strict-sounding protocol. The royal rules about having kids actually make things pretty complicated, and with Meghan Markle about to give birth, it's a good time to review this stuff because, really, who knew?
And while many of these rules are probably only suggested, and maybe a few are just oldies but goodies that are still on the record, but no one really worries about, it does go to show that with someone in Meghan Markle's position has a lot to deal with right about now.
Having her baby with Prince Harry should be a special, private time, but instead, the past weeks have featured one news story after other about Markle being "difficult"... all just for trying to be in charge of her birth experience, even if it's unlike Kate's. If you think about it, that's really strange. For now, at least, I'll cross my fingers that the baby's arrival is all that she and Harry have hoped for.
In the meantime, it seems that Markle is in for a more complicated road as a royal mom, if she wants to do things in a unique way. Because as awesome and cool as the Windsors seem, there is an awful lot of protocol behind the scenes.