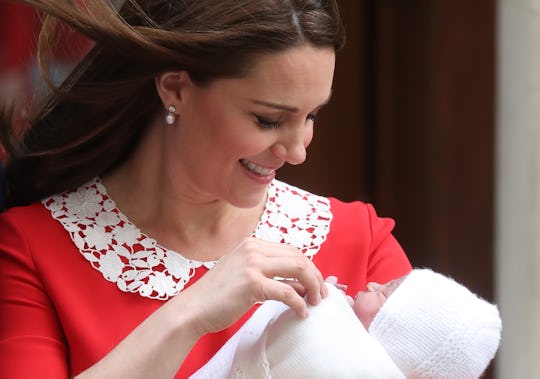 Chris Jackson/Getty Images Entertainment/Getty Images
Here's Why Prince Louis Was Given Six Godparents
Just two months after Prince Louis made his big debut into the world, the names of his godparents were announced to the public. Kensington Palace revealed on Monday, July 9, that Nicholas van Cutsem, Guy Pelly, Harry Aubrey-Fletcher, Lady Laura Meade, Robert Carter, and Lucy Middleton are the chosen godparents to Prince Louis. If you add up all of those names, that's a total of six godparents — a number some people might think is excessive. So, why does Prince Louis have six godparents? As it turns out, most royal children are given a large number of godparents to guide them through their high-profile lives.
Prior to Prince Louis' christening on July 9, royal experts took guesses at how many godparents would make the cut. Most experts assumed Prince Louis would have five godparents like Princess Charlotte, but that proved to be an incorrect guess. Prince William, Duke of Cambridge and Catherine, Duchess of Cambridge, instead decided on six godparents for Prince Louis — a smaller number in comparison to Prince George's seven godparents.
Of course, it's reasonable for the public to wonder why Kate and William prefer to give their children lots of godparents, especially when you consider most people only get two. Although it might seem like a confusing tradition on the surface, it's actually rooted in a lot of logic. To put it simply, royal children depend on their godparents to help them sort out the pressures of living in the public eye. "There's a feeling that because of their role as members of the royal family that they need as many confidants as they can get apart from their parents," Robert Jobson, royal editor of The Evening Standard explained to ABC News in July 2015.
Makes sense, right? Life as a royal is not always easy, and kids born into this complicated world need all of the support they can get. It's nice to know that Prince Louis will have six different people to call on when he's in a jam. Kate and William's newborn is one lucky kid.
As for why Prince Louis has a smaller number of godparents in comparison to Prince George, that all boils down to the royal throne. In short, there's a lesser chance Prince Louis will become king one day, meaning he'd need a fewer number of mentors when he's older. It's important to note, however, that it's typical for royals to have six godparents in total. In fact, both William and Prince Harry, Duke of Sussex, have six godparents each. As for why Kate and William decided to deviate from the rule of six for Princess Charlotte and Prince George, there's a good chance the public will never have a concrete answer. Picking your child's godparents is a very personal and private decision, and the couple is under no obligation to divulge the reasoning behind their choices. All that matters is the happiness and security of their kids, after all.
Numbers aside (all of this number talk can get a tad confusing, right?), it's also interesting to note the outlier in the group of Prince Louis' godparents. Some fans of the royals might be surprised to learn that Kate chose her cousin, Lucy Middleton, to be one of the godparents. Although this might seem like an incredibly predictable choice on the surface, it actually goes against Kate and William's tradition of choosing their close friends as godparents. In fact, many royal experts didn't predict Lucy would make the final roster. Way to keep the public on their toes, Kate and William.
Overall, it seems like Kate and William selected a great group of godparents for Prince Louis. And while six godparents might seem like a big number for one kid, it's perfect for the little royal. Carrying out the duties of the royal family is no easy task, after all.