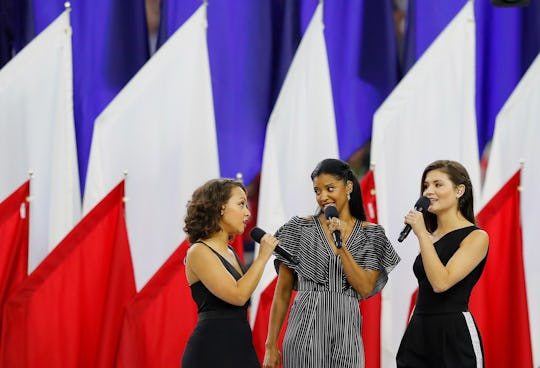 Kevin C. Cox/Getty Images Sport/Getty Images
The Schuyler Sisters Just Dropped The Feminist Mic
Super Bowl 51 has already started off with a serious dose of power — the Schuyler sisters just made "America the Beautiful" feminist with their empowering nod to sisterhood. Seriously, if anyone can turn that song into a woman's anthem, it's the Schuyler sisters.
When everyone heard that the Schuyler sisters would be singing at the Super Bowl 51, many rejoiced. Though some were understandably confused. Stars of Broadway aren't usually the first picks to sing a song at the Super Bowl, but according to The New York Times, despite none of the three singers — Phillipa Soo, Renee Elise Goldsberry, and Jasmine Cephas Jones — actually still performing with the cast of Hamilton, their popularity definitely scored them a part on stage at Super Bowl 51.
"America the Beautiful" is already an incredible song of patriotism and faith in the country, but the Schuyler sisters took it a step further with an incredible nod to women and 2017 as the year begins — they changed the lyrics from "in brotherhood" to be "in brotherhood, and sisterhood."
I know. I'm crying, too.
It's more than just an experience because they are the Schuyler sisters from Hamilton — the three women are women of color and came on stage in pantsuits, according to Bustle. With The New York Times recent report that President Trump has required women staffers in his office to "dress like women," the mention of both sisterhood and the fashion choices make it seem like the original Schuyler sisters were definitely using their moments on the stage at Super Bowl 51 to send a message to Trump, America, and everybody watching — who run the world? Girls.
In a sport that is predominantly considered to be "a male sport", having three incredible women take the stage and be feminist AF is one of the best things to happen so far in 2017. It's like using one of the biggest events of the year to make a political statement, but it's not one that's tired out or that people are over arguing about — it's a true power message for women. It's a reminder that women are more than just a part of this country — they are what makes it thrive, makes it grow, and makes it worth living in. It's not anti-Trump or anti-Republican, it's pro-women. And the Schuyler sisters feminist statement is sure to last beyond the Super Bowl and leave everyone feeling inspired — even if their team didn't win.