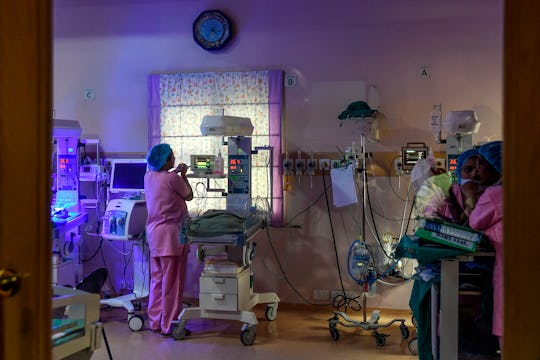 PRAKASH SINGH/AFP/Getty Images
NICU Nurses Translate 7 Common Terms That Seem Like A Secret Language
The neonatal intensive care unit (NICU) in any hospital is full of beeping machines, specialized medical professionals, and tiny babies that need a lot of extra care. To anyone on the outside, it can seem as though there's a secret language only NICU nurses know. Though they may be confusing to parents, these terms help the nursing staff effectively communicate about their patients in order to provide the best possible care.
Oftentimes, this secret language is overwhelming to parents whose baby is newly admitted to the NICU, but it's not meant to shut the family out. In fact, Lisa Osborne, RN, tells Romper that many of the terms are used "among fellow nurses, as well as with our parents, care givers, and patient siblings." However, parents of babies in the NICU are often in a sensitive emotional state, so the medical staff tries their best to be sensitive to that fact and show compassion by not translating everything right away. "We believe in family-centered care and in that vein we provide parents/caregivers with as much information as the family is ready to hear," Sharone Halperin, RN, tells Romper. How long a baby has been in the NICU and the severity of their condition can influence how much info is translated for families.
Once families are ready to start taking in information, the nursing staff will generally begin to explain the common code words and their meanings. "Information is power and health care providers should help empower parents during what could be a high stress time; one in which they may feel lost and not know how to provide care for their newborn baby," Halperin says. Some of the terms are unique to the baby's time in the NICU, while others will be applicable once the baby is home. Here are a few common phrases experts say parents will likely pick up on during their baby's stay.