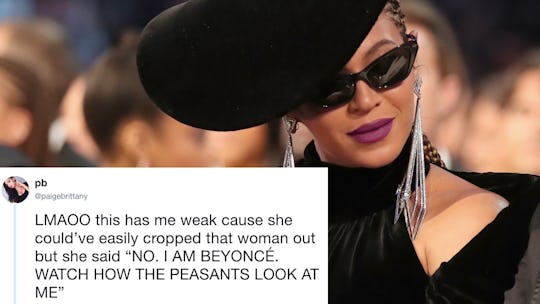 Christopher Polk/Getty Images Entertainment/Getty Images / paigebrittany/Twitter
The Shocked Grandma In Beyoncé's Photo Opens Up About The Viral Moment & It Sounds So Surreal
Being in the presence of Beyoncé is surely an out-of-body experience. But when Queen Bey walks past you when you aren't expecting it, the feelings of overwhelming euphoria are understandably amplified. A lucky grandmother on vacation in New York City this past weekend got to experience this when she found herself in the same hotel as Beyoncé. And not only that, but a photographer captured the shocked look on her face when Beyoncé flashed her a smile. Beyoncé later shared the picture to Instagram, where it went viral. The shocked grandma recently opened up about her big Beyoncé moment, revealing that an accidental run-in with Yonce is just as wonderful as we all imagined.
"I was like 'Oh, my God!'" Susan Monaghan told the Boston Globe in a phone interview about the encounter, which took place at the Sheraton New York Times Square Hotel on Saturday. "I looked at her and all I could think was, 'No one is going to believe me. No one is going to believe me.'"
While Beyoncé was at the Manhattan hotel for a pre-Grammys bash, Monaghan was there to attend her granddaughter's gymnastics competition and to celebrate her daughter Jenn Hiitt's birthday. As Monaghan recounted to the Boston Globe, she got off the elevator on the eighth floor to stop by her hotel room after dinner. There was a large group of people making their way down the hall in her direction, so she stepped to the side. Suddenly, she noticed JAY-Z — but it took her a moment to put her finger on who he was.
"I'm thinking in my mind, 'Who is this?' And I looked at him and he looked tall, and thin, and had curly hair, and was really good-looking," she told the outlet. "'You look familiar,'" she recalled JAY-Z saying to her. '"Do I know you?'"
But then, she saw the mysterious, handsome man's wife: an unmistakable Beyoncé.
Once Monaghan noticed Queen Bey, she started saying, "Oh my god!" out loud. Bey was evidently amused, because she shot a reassuring smile at Monaghan, causing the fan to drop her jaw. "It was so calming and so surreal," she told the Boston Globe. "And then I realized, and I turned back, I was talking to JAY-Z. It was really funny."
"I swear," she added, "I felt like I was hugged by an angel."
When the photo emerged on Instagram, many shared it on Twitter, expressing how relatable Monaghan's expression was.
As the last tweet points out, it's pretty notable that Beyoncé chose not to crop the photo — and Monaghan has a theory as to why. "I think she posted it for me," she told the Boston Globe. "So people would believe me." And that evidently came in handy. When Monaghan went back to the hotel lobby to tell Hiitt and her granddaughter about her run-in with the Carters, they didn't believe her. The next day, someone texted Hiitt to tell her that the photo was going viral. "We started dying laughing," Hiitt told the outlet. "And she's like, 'I told you I met them!'"
The viral photo, which has racked up more than 4.5 million likes on Instagram, has certainly amused Monaghan. "I think it's hysterical," Monaghan told the Boston Globe. "Strange things happen to me."
At the Grammy Awards the next day, Beyoncé went viral again. Her and JAY-Z's daughter Blue Ivy was captured telling her parents to tone it down from the front row of the awards show. Twitter couldn't stop laughing at the 6-year-old's command over her famous mom and dad.
I guess Blue Ivy isn't quite as enamored by her mother as Susan Monaghan.
Check out Romper's new video series, Romper's Doula Diaries:
Watch full episodes of Romper's Doula Diaries on Facebook Watch.