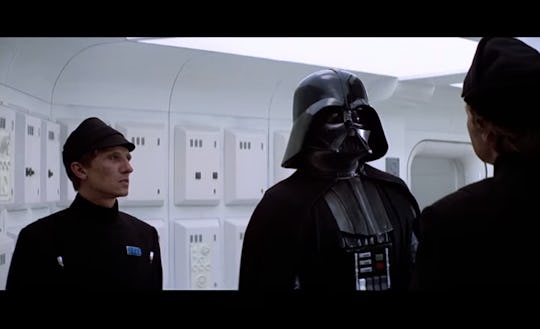 The 'Star Wars' "Stayin' Alive" Mash-Up On 'The Tonight Show' Was All Kinds Of Amazing — VIDEO
Let's face it: The Force Awakens is practically taking over the world. And if you thought the craze was starting to die down, think again. Monday night's The Tonight Show proved the movie is also dominating the small screen, with a mashup that had our favorite Star Wars characters covering the Bee Gee's "Stayin' Alive." Whether you're a die-hard Star Wars fan or have a Bee Gee's vinyls tucked away, you should totally watch it because the minute-long video is just awesome no matter which way you look at it.
Inspiring Google to redesign Gmail and other popular apps — and even brought up during a leading presidential nominee's closing statement — the newest Star Wars installment is breaking records left and right. And in case you were wondering which records the movie has smashed since its Dec. 18 worldwide debut, there are some big ones: Opening weekend alone, The Force Awakens earned $248 million in American ticket sales and brought in $525 million worldwide, topping out Jurassic World. And with the holiday weekend rapidly approaching, it's a safe bet that the movie is only going to make more big money.
Considering all of this, is it really that surprising someone would think to have the Star Wars cast, old and new, channel some disco? But I, for one, am so glad they did — and one person who agrees is Jimmy Fallon. "It's pretty clear that the [Star Wars] franchise is staying alive," the host said on Monday's show, according to Us Weekly. Adding, "So we thought we would show our excitement the only way we know how: by editing footage of the Star Wars movies to the tune of 'Stayin' Alive.' You can clap along, you can dance along!"
What (without any spoilers) can you expect from this epic mashup? Besides Jabba, brace yourself for some nostalgia, as there are a ton of throwback cameos from the likes of Harrison Ford and Samuel Jackson. But whether The Empire Strikes Back is still your favorite movie or you're all about The Phantom Menace, there is something for every fan. So, you should probably see for yourself in the video below:
Image: The Tonight Show Starring Jimmy Fallon/YouTube