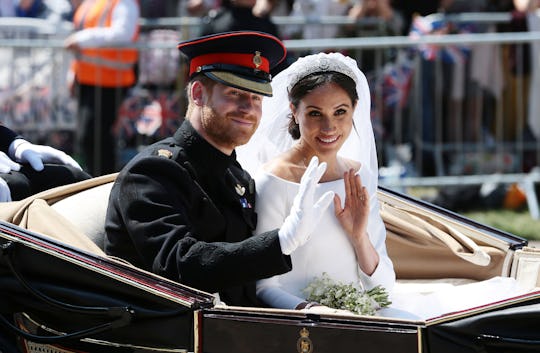 WPA Pool/Getty Images Entertainment/Getty Images
Here's The Sweet Story Behind That Stunning Wedding Portrait Of Meghan Markle & Prince Harry
You know that absolutely stunning black and white portrait taken of Prince Harry and Meghan Markle at their wedding? Turns out, that was the product of just a three-and-a-half-minute long photo shoot. The royal wedding's official photographer, Alexi Lubomirski, recently opened up about the short time he had with the couple, and the story behind Meghan Markle and Prince Harry's wedding photo proves how blissfully in love the couple felt all day long.
"So after we'd done the set up [the family] shots, then we all went to the reception, and if the couple were going to have any energy after that, we were going to go into the rose garden and just take some intimate quick shots," Lubomirski told reporters on Wednesday, as reported by People. "So eventually we went out there, we had about three-and-a-half minutes to take some pictures, because everything was like clockwork, and it was just one of the those magical moments, when you are a photographer and everything falls into place."
He added that both the Duke and Duchess of Sussex were both feeling euphoric, which seems to have made them easy subjects. "You have Windsor Castle in the background, the sun is setting just over the top of Windsor Castle behind them, it is just the most serene beautiful light," he added, according to People. "They are in love, walking around this beautiful garden, and then we walked around for a bit, and then just got pictures of them. And they are in this elated state of mind."
Despite the gorgeous sunset over Windsor Castle, Lubomirski wound up capturing the magical shot moments after they had technically ended the shoot. He continued, according to People:
I said finally, "Okay, let's go back. You can go back to your thing now, but listen, just before you go in, let's sit down on these stairs." And she just slumped in between his legs, and there was this moment where they were just laughing because they were joking about how they were exhausted and finally it's all over. And they just looked at each other and they were just laughing, and it was this just beautiful moment.
Lubomirski was thrilled when he finally got to look through the photos he took, because the winning shot was clear. According to People, he added:
And when you are taking the pictures, you know you have something, but obviously you haven't got time to look at it. So it wasn't actually until I got back to the hotel that I looked at it, and it was just amazing — a very happy moment.
And in an interview with Reuters, Lubomirski, who also took Markle and Prince Harry's engagement photos, revealed that the pair had very familial vibes. He told the outlet:
One word that I really kept throwing around in my head was "familial," because when we did the engagement pictures and you got the sense that they were together, that black and white picture when they were really embracing and hugging, and you felt that love.
Additionally, Lubomirski revealed the tricks used to keep the gaggle of page boys and bridesmaids still while taking the official family portraits on Saturday. His secret trick? Candy bribes. He told Reuters:
They were being bribed with one Smartie here, one Smartie there, so as soon as the kids came onto the set, I immediately just shouted out "Who likes Smarties?" and then everybody, hands up, smiles, even some adults put their hands up.
Based on the three ravishing portraits that Kensington Palace released from the royal wedding, it's obvious that Prince Harry and Markle chose the right photographer for their wedding. Here's hoping more are released soon.