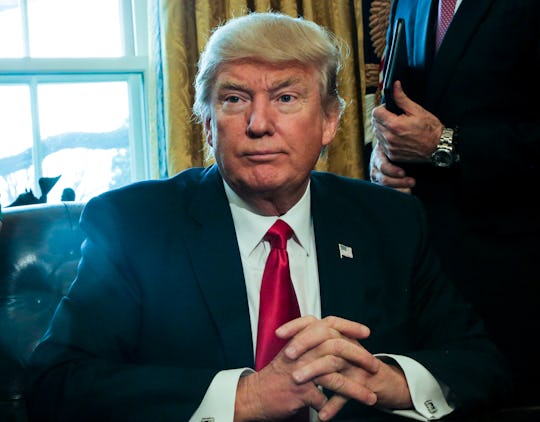 Pool/Getty Images News/Getty Images
Odd Quotes From 'The New York Times' Trump Profile
You'd have to be living under a rock to not already know that President Donald Trump is having a rather unorthodox first few weeks in office. As promised during his presidential campaign, the Trump administration has wasted absolutely no time rolling out a slew of highly controversial executive orders, but they haven't exactly been crowd-pleasers, and some have led to widespread, angry protests. But in a New York Times article published Sunday, writers Glenn Thrush and Maggie Haberman claim that the behind-the-scenes reality of Trump's adjustment to the White House might actually be more unusual than anyone thinks. The strangest quotes from The New York Times' Trump profile suggest that his administration is experiencing major growing pains, and that the next four years will almost definitely be highly unpredictable.
If Trump is already displeased with The New York Times' coverage of him (and to be clear, he really is — he's repeatedly called out the newspaper as being "fake news") he surely won't be very happy with Thrush and Haberman's piece, which the writers said was "based on interviews with dozens of government officials, congressional aides, former staff members," many whom spoke on the condition of anonymity. What resulted was an account of Trump's early days in office, and from the sounds of it, Trump might not be as in control of the situation as he'd like the public to think he is.
Trump Was Not Fully Briefed On Bannon's Security Council Appointment
There were lots of surprising details that came out of the New York Times piece, but perhaps the most significant was the claim that Trump wasn't actually fully aware that he was giving his chief strategist, Steve Bannon, a seat on the National Security Council. Bannon has been highly criticized for his role in Trump's administration, and many have speculated that Bannon, not Trump, is truly calling the shots behind the scenes.
According to CNN, Trump recently came under fire for his decision to make Bannon a member of the National Security Council, while blocking the director of national intelligence and the chairman of the Joint Chiefs of Staff from regularly attending briefings. It's a move former acting CIA chief Michael Morell called "unprecedented," and warned that it would be "[bringing] politics into a room where there should be no politics." Vermont Sen. Bernie Sanders similarly called the move "dangerous," and called for Bannon's removal, while President Obama's National Security Adviser Susan Rice tweeted that Bannon's appointment was "stone cold crazy."
But in their article, Thrush and Haberman claimed that Trump may not have even realized exactly what he was doing. Their sources have claimed that Trump was "angry" over the fact that "he was not fully briefed on details of the executive order he signed giving his chief strategist a seat on the National Security Council" and noted that Bannon's appointment was actually "a greater source of frustration to the president than the fallout from the travel ban."
Trump's Aides Ignored Christie's Transition Plan In Favor Of More Executive Orders
New Jersey Gov. Chris Christie wasn't exactly a fan favorite when he was tapped by Trump to lead his transition team, but Christie did have one thing going for him that the others did not: his government experience. Trump's team is notable for being extremely light on actual experience, as the President has favored choosing business experts over politicians. Christie was ultimately ousted from his role in November, but not before he designed a "detailed staffing and implementation plan," that echoed that of previous GOP administrations.
Given the immense challenge facing Trump's administration as they transitioned to the White House, it seemed like having a plan that's been shown to have worked well in the past might be considered an asset. But according to Thrush and Haberman, it was literally thrown out after he left:
[Christie's plan] was discarded — a senior Trump aide made a show of tossing it into a garbage can — for a strategy that prioritized the daily release of dramatic executive orders to put opponents on the defensive.
In a recent appearance on CBS' Face The Nation, Christie defended Trump — and his contentious travel ban — but said, "I think anyone who looks at this knows it could have been and should have been done better."
Trump Really Cares About Those Golden Curtains
It's no secret that Trump really cares about appearances — and it's also no secret that he loves gold décor. His Trump hotels are famously decked out in gold, and then, of course, there is his gilded New York penthouse, which pretty much borders on being completely ridiculous. But according to The New York Times, his keen eye for decorating details hasn't waned now that he's living in the White House.
Trump's plans to redecorate have already been discussed by a number of outlets, but the consensus seems to be that Trump would defer to the historic nature of the property and not change a whole lot. In a 2015 interview with People, Trump said, "if I were elected, I would maybe touch it up a little bit, but the White House is a special place. You don't want to do too much touching."
Now that he's actually living there, it sounds like he's stayed true to that claim, though that doesn't mean he isn't still paying close attention to the décor. According to Thrush and Haberman, Trump is quick to point out to visitors the changes he's made to the Oval Office, and that he's particularly enamored with the golden drapes that hang behind his desk:
Visitors to the Oval Office say Mr. Trump is obsessed with the décor — it is both a totem of a victory that validates him as a serious person and an image-burnishing backdrop — so he has told his staff to schedule as many televised events in the room as possible.
... Flanking his desk are portraits of Presidents Thomas Jefferson and Andrew Jackson. He will linger on the opulence of the newly hung golden drapes, which he told a recent visitor were once used by Franklin D. Roosevelt but in fact were patterned for Bill Clinton. For a man who sometimes has trouble concentrating on policy memos, Mr. Trump was delighted to page through a book that offered him 17 window covering options.
Jared Kushner Might Not Yet Be As Influential As Expected
Trump's decision to bring his son-in-law, New York real estate investor Jared Kushner, to Washington as a senior advisor was met with much criticism, primarily because it raised concerns about nepotism in the White House (not to mention that, uh, Kushner also has zero policy experience). Then, it became clear that Trump also intended to involve his eldest daughter, Ivanka, in his team — with some even speculating that she might take over first lady duties for Trump's wife, Melania — which seemed like an even bigger concern. (Trump's transition team has said these rumors are just that — rumors — and that Ivanka will not be assuming the duties of first lady.)
But interestingly enough, recent reports have suggested that Kushner and Ivanka (both of whom have supported same-sex marriage) may have been instrumental in preventing an executive order meant to overturn policies designed to protect LGBTQ rights in the workplace, according to Politico. Despite concerns that right-wing, religious conservatives (like Trump's own vice president, Mike Pence) would push for the rollback of the Obama-led policy, a resulting statement from the White House last week said,
The executive order signed in 2014, which protects employees from anti-LGBTQ workplace discrimination while working for federal contractors, will remain intact at the direction of President Donald J. Trump.
That's (relatively) good news for progressives, but according to Thrush and Haberman, they shouldn't get too excited just yet. That's because, although Trump is close with his daughter and her husband, they don't exactly appear to be playing a big role in his administration so far:
Jared Kushner, Mr. Trump's son-in-law, occupies a central role in the administration and has been present at most major decisions and photo ops, but he is a father of young children who has taken to life in Washington, and, along with his wife, Ivanka Trump, has already been spotted at events around town.
Bad Poll Numbers Could Be Trump's Undoing
It's no secret that Trump really cares about what people have to say about him. Despite claiming that all negative articles about him are fake, and that he's so widely adored that the only reason he didn't win the popular vote is because of as-yet-unproven voter fraud, according to BBC News (not to mention all the "alternative facts" claiming that his inauguration was a huge success despite the small crowds and low attendance), but the reality is that Trump entered the White House with the lowest approval rating of any president on record, according to The Independent. Trump supporters might not care — after all, he wasn't very widely liked during his campaign either, and he still won — but Trump's angry tweets about negative press and mocking Saturday Night Live impressions suggest that the backlash is likely getting to him.
It seems strange to think that, above all else, likability would be Trump's primary concern (I mean, being a politician basically means there will always be someone who really doesn't like you), but according to Thrush and Haberman, he's bothered by the criticism. They quoted Chris Ruddy, Newsmax Media chief executive and a friend of Trump as saying, "I think, in his mind, the success of this is going to be the poll numbers," and noted that Trump is feeling "increasingly pinched by the pressures of the job and the constant presence of protests," as he is "cloistered in the White House ... [with] little access to his fans and supporters — an important source of feedback and validation."
Perhaps unsurprisingly, they also wrote that Trump has been watching a ton of cable news to stay on top of the coverage (something you can gleam just by looking at the content of his angry tweets), and noted that the negative coverage is weighing on him:
Until the past few days, Mr. Trump was telling his friends and advisers that he believed the opening stages of his presidency were going well. 'Did you hear that, this guy thinks it's been terrible!' Mr. Trump said mockingly to other aides when one dissenting view was voiced last week during a West Wing meeting.
But his opinion has begun to change with a relentless parade of bad headlines.
Facing backlash seems to be an inevitable part of the job as POTUS, and with policies as controversial as his, Trump will no doubt be facing a lot of it during his term. But Thrush and Haberman aren't the only ones who have commented on the effect it could have.
According to NBC News, radio host (and Trump's friend) Howard Stern spoke Wednesday on his SiriusXM satellite radio show about the negative affect that being President will have on Trump, mostly because, according to Stern, Trump "wants to be liked, he wants to be loved, he wants people to cheer for him." He said,
I know something about Donald Trump, he really does want to be loved. He does want people to really love him. And that drives him a lot. I think that he has a very sensitive ego. And when you're president of the United States people are going to be very, very critical.
As for Trump's controversial travel ban, Stern thinks his thought process was misguided:
I think his motive is, 'Wow, people will love me because I'm going to keep terrorists out of the country.' And I think he's genuinely shocked when people say, wait a second there is more to this.
Ultimately, Stern said he doesn't even really think that Trump is even as right-wing as he appears to be — he claimed that Trump was once a Hillary Clinton supporter, as well as pro-abortion rights — and that he doesn't even really believe he ever really intended to win the presidency:
I think it started as kind of a cool, fun thing to do to get a couple more bucks out of NBC for the Apprentice. I actually do believe that ... And that's why Donald is calling for voter fraud investigation. He's pi--ed he won! He's hoping he can find some voter fraud and hand it over to Hillary!
Of course, even if Stern is friends with Trump, his comments are purely conjecture, and surely Trump's team will be quick to downplay them (maybe as more fake news?). But Thrush and Haberman's piece certainly seems to be tapping into the swirling rumors that perhaps Trump isn't quite as in control as he appears to be, and that even though he'd like the American public to believe that everything in the White House is calculated and under control, it might really be much more haphazard and poorly executed than anyone might think.
Either way of course, the piece will no doubt irk the President, and it wouldn't be at all surprising if Thrush and Haberman become the next target of his tweet storms. But by raising the curtain on Trump's first weeks in the White House, they've shown that, at the very least, the country will likely be in for a bumpy ride with Trump at the wheel — and that there are probably a lot more surprising details still to come.