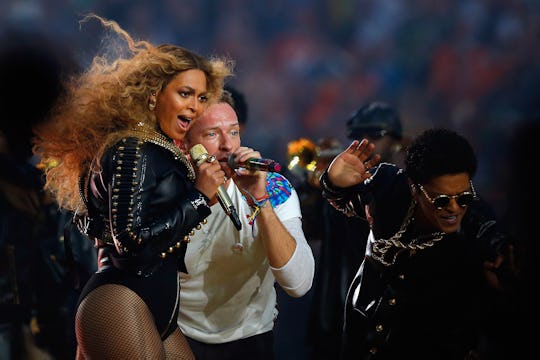 Kevin C. Cox/Getty Images
The Super Bowl Halftime Show Was Missing This One Very Important Thing
So we finally got around to the important part of the Super Bowl: the halftime show, aka, Beyoncé's concert with some British dudes opening for her, aka, the real reason we're all here. And of the many noteworthy things that were present during the halftime performance (Chris Martin's jacket tho), there is one thing that was definitely, acutely, egregiously absent from the montage of best Super Bowl halftime moments: NIPPLEGATE. Come on! You guys are really about to present to us, The Internet That Never Forgets, a pieced-together series of iconic moments from halftimes past, and not include the undisputed queen of all halftime moments? Especially considering that 2004 — The Year Of Nipplegate — was the last time the Panthers were in the Super Bowl. Like, it was an oversight, guys.
For those of you who were either not watching (OK, but you should still know), or — cringe — weren't old enough to remember, back in 2004, we all started caring a little more about Super Bowl halftime shows again after Justin Timberlake capped off his halftime performance alongside Janet Jackson by ripping off part of her costume to reveal her bare boob can you even believe it?!
Let's refresh our memories:
It was a big deal, to say the least. As the nation clutched its collective pearls...
...we were introduced to the timeless term "wardrobe malfunction" (all the youngins are suddenly like, "Ohhhhh, THAT'S where that comes from! I always say that!") and I'm pretty sure it was the first moment that the whole "wait, why are women's breasts so offensive?" conversation got to happen on social media (which was still really very new in 2004).
In other words, it was an incredibly iconic Super Bowl halftime show moment. In fact, of all the admittedly awesome and memorable performances, if you're talking "history books" in terms of Super Bowl halftime, the Janet Jackson "wardrobe malfunction" is the moment that would stick.
Anyway, here's what we did get during the look back in the middle of Super Bowl 50's halftime performance (wherein, it's worth mentioning, Beyoncé destroyed whatever was left of our brains after seeing her new "Formation" video by performing it live and...ya know...slaying).
It's OK if the Super Bowl is still too afraid of your unapologetic sexual power, Janet. We (and history books, seriously, probably) will never forget you or your earth-stopping pasty.